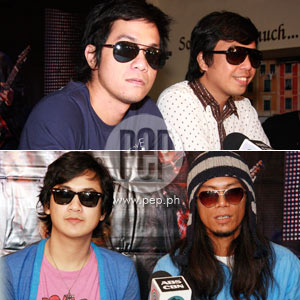 ---

The Eraserheads will be rocking the concert scene once again as they reunite for a one-night concert on March 7, 2009. It will be remembered that the reunion concert of the Eheads was cut short last year due to health complications of frontman Ely Buendia. The Eheads will be performing for their second and last concert dubbed as Final Set.

In the January 19 press conference organized by MTV Philippines, Ely Buendia said that they are making a conscious effort to differentiate this concert from their previous productions.

"We wanna make it different. Sabi ko nga if it's possible, make it better-better sound, better production, better peformance, lahat. Kaya most definitely it will be different. Alam mo naman kami, di kami umuulit," says Ely, the group's vocalist who is now with a different band called Pupil.

When asked how he prepared himself for the concert, Ely said that he gets lots of sleep and rest. He emphasized that he is already in good physical condition, as evidenced by his Dubai concert, wherein he performed for over an hour.

The members of the popular '90s band hope that their supporters will come and be with them in their final act as a band. "Most definitely it will not just be yung mga singles, we will also be playing personal favorites, the band's favorites," says Ely.

Members of the press asked Ely to reveal what is secret behind the popularity of the Eheads. "Sabi nila it [songs] speak to the...it speaks to the heart. Madaling kantahin, madaling maalala, pang-masa."

What new things will the Eheads offer to audiences this time around?

Ely quipped: "Group hug?" But Buddy quickly added: "Only if the audience initiates it."

Find out if the four iconic performers will indeed leave all their quarrels behind when they get together for the Final Set.


For ticket inquiries, call Ticketnet at 911-5555 or Ticketworld at 891-9999.



ADVERTISEMENT - CONTINUE READING BELOW