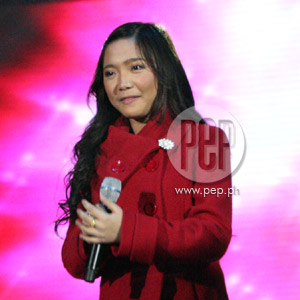 ---

Afterher well-applauded performances at one of the pre-inaugural balls of U.S.President Barack Obama, Charice is back in the Philippines to recount heronce-in-a-lifetime experience. The Filipina singer performed at the PearlPresidential Inaugural Gala, which was held at the Mandarin Oriental inWashington D.C. last January 19.

Charicesang "God Bless America" and "One Moment in Time" during the event that was attendedby 1,500 personalities and community leaders in the Asian American and PacificIslander community. Although Barack did not attend the event, his sister MayaSoetoro-Ng was there to represent the newly-elected President.

According to the official website of Asian Journal, President Obama's sisterMaya and her husband Conrad were both "teary-eyed" when the Pinay singer gaveher rendition of "God Bless America."

In fact, Maya is quoted as saying, "That beautiful and powerful rendition,which came from this small package, is capable to shatter the biggest apathy inthis world," as she hugged Charice.

During her spiel at the PearlPresidential Inaugural Gala, Charice told the audience: "I'm very proud to be aFilipino and ang next song ko ay tungkol po talaga sa buhay ko." She thenrendered the Whitney Houston original "One Moment in Time."

Aside from performing in the Pearl Presidential Inaugural Gala, Charice alsowowed audiences who attended the Martin Luther King Jr. pre-inaugural galacalled Realizing the Dream. Afterthe Filipina singer rendered the song "God Bless America," shereceived a standing ovation and Martin Luther King III (son of the slain civilrights leader) even hugged her onstage.


TEARFUL CHARICE. In a live interview with The Buzz last January25, Charice admitted that she was very nervous about performing for theseevents. To prepare herself, she revealed that she would sleep late at nightbecause she kept on listening to the songs over and over again. "I wanted theAmericans to know that even if I am a Filipina, I can sing their secondnational anthem. I sang Celine Dion's version," explains Charice.

ADVERTISEMENT - CONTINUE READING BELOW
TheBuzz hostBoy Abunda asked Charice regarding the changes in her life ever since shebecame an internationally renowned singer. "I am where I am now because of thepeople who have and are continuously helping me. David Foster, as my mentor,teaches me with the songs I sing, and guides me with the English language.Plus, my mom, is always there for me."

Charice even narrated a funny incident while she stayed in the capital of theUnited States, "I was told that they will teach me how to eat Americanfood. But the funny thing is, I [taught] them how to eat sardines with soysauce and vinegar."
Even though Charice's career is in full bloom,she was moved to tears when she recalled the hurtful things that people saidabout her-and continue to say about her.
"I remember I just wanted to be known as a singer, butdespite my efforts, nobody seemed to recognize and appreciate my talent. Somaybe because of the struggles and hardships I went through, God rewarded mewith these blessings.
"To my detractors, thank you very, very much! You gave me the strength toshow that I can do the things you didn't believe I can do."
LAS VEGAS CONCERT.
Charice will be one of the performers in the upcoming
May 9
concert of 15-time Grammy winner, David Foster. The one-nightevent is dubbed
Hitman: David Foster and Friends
and will take place atthe Mandalay Bay Events Center located in Las Vegas, Nevada.
The young singer will be performing with well-known music icons includingPhilip Bailey of the famous band Earth, Wind and Fire as well assinger-songwriters Brian McKnight and Peter Cincotti.