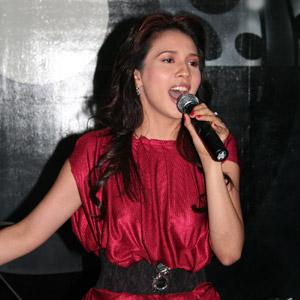 ---

Being single onValentines Day doesn't necessarily require one to stay alone at home watchingreruns on television while eating buckets of rocky road ice cream.

Even showbiz's poster girl for the unattached will go out to celebrate the occasion not justwith one person but with a crowd of lovers through a concert on February 14 atthe Lobby Lounge of the Edsa Shangri-La Hotel in Mandaluyong City.

Titled The Magic of Love, the concert,according to Karylle, will celebrate the euphoria that comes with being in love—abrave concept considering her recent brush with heartbreak.

At a press conference heldat the E Bar of the Edsa Shangri-La Hotel recently, Karylle revealed that herset list for the concert will include only one heartbreaking tune while therest of the songs will touch on the joys of romantic love.

"Siyempre it's Valentine'sand it's all about love," Karylle told PEP (Philippine Entertainment Portal). "Forme naman, I love singing for people who are in love, kahit papaano you see it intheir eyes. And you see them, e, they glow, they click and they have a littlehappy moment, they hold hands and they share it. Kahit papaano when you seethem like that, it makes you believe in love talaga."

Karylle certainly won'tlet her current status, not to mention her much publicized breakup with DingdongDantes, hinder her from sharing and observing Heart's Day.

"I always feel like Ihave so much love to give. A lot of love inside of me and instead of justgiving it to one person, as an artist it's good that you can share it with youraudience and that's what I love about music and that's one way to release allthis love."
ADVERTISEMENT - CONTINUE READING BELOW

Karylle personally handpicked the songs—a painstaking process given the singer's vast favoritescovering a wide array of music genres from foreign to OPM classics. JoiningKarylle in interpreting the songs is her longtime backup band, Reasons.

To make the eveningmore memorable, the concert will begin with a dinner at the Shangri-La LobbyLounge at 7:00 in the evening leading to Karylle's performance at 8:00 PM.Guests are even encouraged to wear red to help set the romantic mood.

"I think people can seehow real I've become with love and music... how open and honest the heart can be."

Talking about her experienceand how much it helped her as an artist and performer, Karylle enthused, "Myrecent experiences will help me in my performance because there are no morewalls. I want to let people into my heart as much as I can and you can feelthat through my music."


Aside from her upcoming Valentine concert, Karylle's fans can also look forward to her debut album soon to be released by EMI Polyeast.


For reservation andinquiries, please call the Edsa Shangri-La Hotel at Tel. No. 633-8888 local 2777.