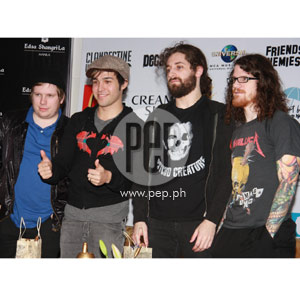 ---

"You should sell your Valentines to Hallmark."
If Joe Trohman (Fall Out Boy's guitarist) were to be takenseriously for every quip he blurts during the pre-concert press conference heldyesterday at Edsa Shangri-la in Mandaluyong City, today's concert at the Araneta Coliseum shouldprobably be the last place you would want to take your special someone.
But of course you've got other reasons why you must havepicked the Big Dome to be your Valentine date: Pete Wentz, the charismaticbassist/lyricist—irrefutably the band's heartthrob—and scores of Fall Out Boyhits like "I'm Like A Lawyer With the Way I'm Always Trying To Get You Off(Me+You)" and the new single, the anthemic "I Don't Care."
And of course, the now-bearded, Lennonesque-hippie Trohmanmust be kidding—or irked—by the question posed by a media person that somehowput Fall Out Boy on a tight, sell-out spot: a Valentine-tinged concert. In ascene where the word "sell-out" means more than just selling your soul to thedevil, but tantamount to losing your cred altogether, a Valentine concert mustbe last in the band's to-do list.
About a year ago, the quartet did their first Philippinetour, promoting their fourth official LP Infinity On High. This year,they're promoting a new one, almost exactly a year after the last one. Thistime it's Folie a Deux, the band's fifth—arguably most mature—album sofar. But the band's chief composer/lead vocals Patrick Stump doesn't think so.
"It is not a serious album," Stump answers when asked if theythink this is their most "serious" album so far. "We've done a lot more seriousalbums before," he continued, probably pointing to the heavily emo DVD/acousticEP My Heart Will Always Be the B-side To My Tongue released in 2004.
ADVERTISEMENT - CONTINUE READING BELOW
The band did not openly say it as any usual pop group would,but they must have meant this concert would be really different from last yearwhen they answered "we're better people now" and "futuristic" to the questionhow this concert is going to differ from the last one.
Incidentally, the brief press conference also became aplatform for awarding the group a Gold record award for the new album, and awelcome party at the same time as the band was presented gifts from the show'spresenters.
Each Fall Out Boy member got the infamous Baguio barrel man(you know, that wooden figurine that hides a naked Igorot inside?), and aBarong Tagalog. Stump admitted he never knew what the clothing meant for thecountry before it was explained to them yesterday, even as he has seen it before,having a part-Filipina girlfriend.
About 30 minutes before Fall Out Boy got to the pressroom,their opening act for the concert, Hey Monday, answered questions from thepress. The young group of five were quick to encourage the media to throw theirquestions even as the startled writers found themselves asking among themselveswho these kids are. Apparently, they're Wentz's new find. As a co-label ownerof record label Decaydance, Wentz was chiefly responsible for signing acts likePanic At the Disco, Gym Class Heroes and The Academy Is, and has had his ownshare of success as a talent finder. Stump, as openly discussed during thepress con, is a resident producer of Wentz's label.
And now, it appears Wentz is planning to bring his clothingline to the Philippines, too.
ADVERTISEMENT - CONTINUE READING BELOW
"We're thinking about it," Wentz says consulting Stump forthe possibility of bringing his clothing line in the country for their fans."And maybe Patrick could man the store," he jokes.
One of the members of Hey Monday managed to sneak to the micin the middle of the room to throw some questions (probably inside jokes) atWentz. But the bassist was quick to dismiss the prank with a "get out of here":"Are you gonna take all of their time now?" referring to the press who werestill waiting for another round of questions.
If the inside jokes and smarts are to continue to theconcert today, it must be just like Hey Monday says it would be: a fun concertthat everybody could enjoy.
And Stump doesn't mind the wisecracks, even the pointyquestions. Asked if he admits to sound like the previous bands he has had toproduce lately, he escapes with: "We're all germinating in one place, it makessense to sound alike."
And maybe that's also good news for Fall Out Boy fans,because if Hey Monday says they have been listening to Fall Out Boy since theywere kids, it should be one hell of a solid concert.