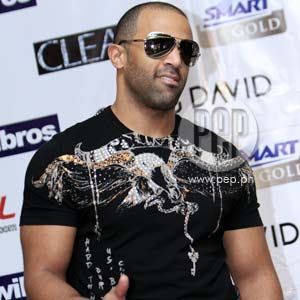 ---

International R&Bsensation, Craig David, is here in Manila to stage a one-night concert tomorrow,March 27, at the Araneta Coliseum in Cubao, Quezon City.

The 27-year-old Englishsinger-songwriter is responsible for the hits "Fill Me In," 'Rewind," "7 Days,""Walking Away," "What's Your Flava," "Don't Love You No More (I'm Sorry)," 'Rewind,""Rise & Fall," and "Hot Stuff," among others.

Sporting a pair ofdark shades, Craig told the media—whom hemet in a special press conference prepared by Warner Records at the E Bar ofthe Edsa Shangri-La hotel—how excited he is to finally perform in front of his adoringFilipino fans.

The concert,interestingly, coincides with the release of Craig David's Greatest Hits album, which is a collection of Craig's successfuland well-loved hits taken from his four studio albums: Born To Do It (2000), SlickerThan Your Average (2002), The StoryGoes (2005), and Trust Me (2007).

Craig expressed excitementand amusement with the timing of releasing a greatest hits album and embarkingon a wide-scale world tour, saying that it freely allows him to play all thehits without letup.

In hindsight, andconsidering his still young career, the multi-awarded singer-songwriter is veryproud of having a greatest hits record under his growing discography. And likeother artists who found themselves dishing out a collection of popularmaterials, Craig thinks that his latest disc symbolizes the closing of achapter and the unveiling of a more exciting future in his musical journey.

"I'm very blessed andprivileged to still be here with a GreatestHits. It's the catalyst, the means, to get to my fifth album," enthused theSouthampton, Hampshire native.

A certified multi-awardedhit maker, Craig was a recipient of numerous awards, most notably three IvorNovello Awards—the prestigious honor named after the popular Welsh singer-actorof the early 20th century given out annually to songwriters andarrangers.

Catch Craig David Live in Manila Greatest HitsTour 2009 tomorrow, March 27, at the Araneta Coliseum at 8:00 pm.

ADVERTISEMENT - CONTINUE READING BELOW
For ticket inquiries, call SM TicketNet outlets at 911-5555.