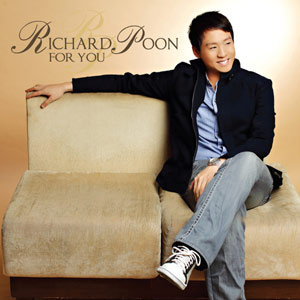 ---

Afterreleasing his top selling album I'll Take Care of You PlatinumEdition, the country's big band crooner is back and enthused with afresh, new offering.
Clinching back-to-back Awit and Aliw Awards late lastyear, Richard Poon returns to the entertainment scene with his own brand of music. Hear a differenttake on unwavering tunes infused with a contemporary flair in his specialdouble disc album titled For You, released under MCA Music.
Meticulouslyrecording and being hands-on in the creation of this 12-track album, Richard Poon injects masterful arrangements and remarkable details ineach of the tracks.

Other tracks from his album include steadfast melodies suchas "You and I," and "Blue Moon," which are given a fresh take andimmortalized with Poon's signature flair. Hear Richard Poon breathe life into well-loved Pinoy classics with soothingrenditions of "Kahit Ika'y Panaginip Lang" and his own orginal "Kahit Di MoNapapansin." Modern hits "Complicated," "For You" and "Through the Fire"are infused with an unexpected yet appealing arrangement that will stir uplisteners' interests. As a special treat, this album also includes a bonusminus one cd of all the tracks.
RichardPoon also has a new single off of his new album. Hiscurrent single "Kumot at Unan" shows the other side ofthis romantic crooner. His music videofor this single is slated to premiere on MYX Music Channel and issomething definitely worth watching for.

HearRichard Poon as he encompasses generational lines andgive a refreshing take on timeless romantic hits. Grab a copy of his newestdouble-disc album For You at Odyssey, O Musicstores, and other major record bars nationwide. You can also check more infoabout the album on Odysseylive.net. Tracks are also available for mobiledownload through Globe and Smart. This album is releasedexclusively under MCA Music Inc.
TRACK LISTING.
1. You and I
2. Kumot at Unan
3. Complicated
4. You are theSunshine of My Life
5. Kahit Ika'yPanaginip Lang
ADVERTISEMENT - CONTINUE READING BELOW
6. Blue Moon
7. (They Long to Be)Close to You
8. Portrait of myLove
9. Kahit 'Di MoNapapansin
10. Through the Fire
11. And I Love You So
12. For You