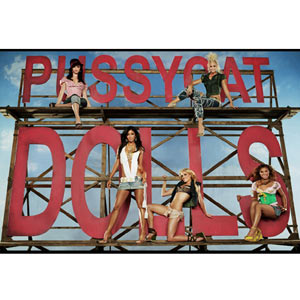 ---
Hear them roar!


The American pop girl group and dance ensemble will invadeManila on June 11, 2009 for a night of spine-tingling performance. Watch A Clear Doll Domination: The Pussycat DollsLive in Manila at the SM Mall of Asia Concert Grounds.
The group behind the world hit songs, "Don't Cha," "Buttons,""Stickwitu," "I Don't Need A Man," "Beep," "Wait a Minute" will soon performtheir new hits from their latest album DollDomination. It contains chart-topping hits like "When I Grow Up," "I HateThis Part," "Whatcha Think About That," and the English version of Slumdog Millionaire's end credits song,"Jai Ho" (You are my Destiny).
The Pussycat Dolls (PCD) started out in 1995 as a burlesquetroupe in California founded by choreographer Robin Antin. During that time, thePCD performed with several guest vocalists with a repertoire of the 1950s and1960s pop standards while wearing old-fashioned pin-up costumes.

Eight years later, Antin sealed a deal with Interscope Records and the groupwas recreated as a music group headed by the lead singer Nicole Scherzinger andsoprano Melody Thornton to complete the shift into a pop group. They joined JessicaSutta, Ashley Roberts, Kimberly Watt and Carmit Bachar who left the group inearly 2008.
Nicole, the lead singer of the group, was born in Honoluluto a Filipino father and Russian/Hawaiian mother.
In 2005, they released their debut album, PCD, debuting at number five on the Billboard 200. Their carrier single,"Don't Cha," was a worldwide hit ranking number one in multiple countriesincluding UK, Australia, and Canada. Their ballad, "Stickwitu" was another hitin the United Statesselling over three million digital downloads and CDs worldwide. It earnedthem a Grammy Award nomination.
Three years after their first album, PCD released their second album DollDomination in September 2008, which included "When I Grow Up," also aworldwide hit.
The second album debuted at number four on the Billboard 200 with 79,000 copies sold inits first week.
ADVERTISEMENT - CONTINUE READING BELOW
Aspart of their World Domination Tour(also known as Doll Domination Tour), the Pussycat Dolls are scheduled to reach4 continents (Europe, Asia, South America, and Oceania) and 25 countries to promotetheir second studio album Doll Domination.
This is the second time for PussycatDolls to perform in Manila.Their first concert was in the Araneta Coliseum in 2006 as part of their firstworldwide tour.

Be dominated by the hottest girl group in theworld! Doncha miss out on The Pussycat Dolls experience with Nicole and therest of the Dolls on June 11, 2009.
Ticketprices:
VIP (P6500)
Gold (P5000)
Silver (P2800)
Bronze (P500)