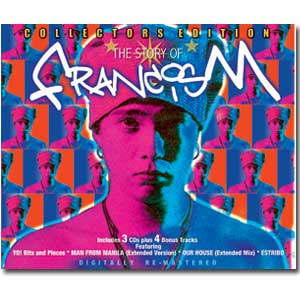 ---

Francis Magalona is regarded as a trueOPM icon and tocelebrate the life and music left behind by the country's Master Rapper,Polyeast Records re-issues Francis M's first three records—titled collectivelyas The Story of Francis M—all in onepackage.
"Asa legend of Pinoy rap music, Magalona released few of his award-winning albumsunder Octoarts back in the '90s and his hits have remained as a symbol of patriotismand hope for the country. And now, get Francis Magalona's collection that hitsyou with the best Pinoy rap in one complete 3-album package which collects thealbums YO! (1990), Rap IsFrancisM (1992) andMeron Akong Ano (1993)—spanning decades of Pinoy hip-hop which Magalonahave established as one of the most idolized, celebrated and influentialrappers within the genre," said Polyeast Records in a statement.
Itis important to take note that Francis M's debut album, YO!, is recognized as the first commercially released Filipino rapalbum in the country.
Mostof Francis's early hits such as "Mga Kababayan," "Gotta Let 'Cha Know," "ColdSummer Nights," "Man From Manila," "Mga Praning," "Halalan," "Meron Akong Ano,""Bahay Yugyugan," "Ito Ang Gusto Ko," "Ayoko Sa Dilim," and "Ubos Biyaya," among others, are included in the special boxset release.
Thealbum also documents Francis's evolution both as a songwriter and recordingartist, which allow the listeners to appreciate even more the significance ofFrancis M in local music and pop culture as a whole.
PolyeastRecords recently announced that The UltimateOPM Collection featuring Francis Magalona is still available in record barsnationwide. The said collection is also a compilation of the late rapper'searly chart topping hits.
The Story of Francis M. Collector'sEdition, released by Polyeast Records, is exclusively available at all Odysseyand O Music and Video outlets.