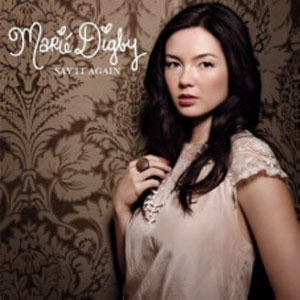 ---

Marie Digby's road to fame started when she won a contest for Pantene's Pro-voice competition in 2004. The singer whose lineage is a mixture of Japanese, Irish and American blood performed one of her many compositions, "Miss Invisible." Included in the prize was being able to work with a professional album producer and performing onstage alongside top performers.

She then decided to drop college and pursue her passion for music. Digby started playing at night clubs across her hometown in L.A.. She was later on discovered and landed a record deal with Disney's Hollywood Records.

It was during this time that Digby started posting videos of her covers of popular hits from Maroon 5, The Game, Nelly Furtado and even Linkin Park. Yet, much recognition was given to her cover of Rihanna's phenomenal hit, "Umbrella" that currently has more than 13 million views to date. She also has more than 160,000 subscribers on her official Youtube page where she holds contests and continuously does covers of recent hits like that of Ne-Yo's "Part of the List" from his album, Year of the Gentleman.

Her debut album under Hollywood records, Unfold includes the hits "Say It Again" and "Stupid For You." Both songs became a favorite of radio stations and her videos flooded music channels and online video streaming sites. Billboard dubs Marie as "...a voice worthy of a solo-pop-acoustic act" upon reviewing her debut album Unfold.

In time for her visit to Philippine shores, Marie Digby releases her second album titled Breathing Underwater that features the single "Avalanche." Marie sticks to themes of love and lost and she successfully brings a sentimental mood whilst infusing more upbeat melodies and beats. Her single has also been noticed by popular sitcoms on TV like The Hills.


Catch Marie Digby Live in Manila on July 5 - 12, 2009. Stay tuned for more of Marie Digby as she talks about her album and reveals more about herself and her songs in the coming days. Her albums, Breathing Underwater and Unfold, are now available in all Odyssey, Astrovision and Music One stores. Her songs are also available for download through cell phone via WAP and through the internet via www.fliptunesplus.net.


UNFOLD TRACK LISTING.

1. Fool

2. Better Off Alone

3. Say It Again

4. Miss Invisible

5. Stupid For You

6. Girlfriend

7. Traffic

8. Voice On The Radio

9. Spell

10. Beauty In Walking Away

11. Unfold

12. Umbrella

Bonus Tracks:

13. "Stupid For You (Acoustic)"

14. "Better Off Alone (Acoustic)"

15. "Say It Again (Acoustic)"

16. "Umbrella (Acoustic)"



ADVERTISEMENT - CONTINUE READING BELOW