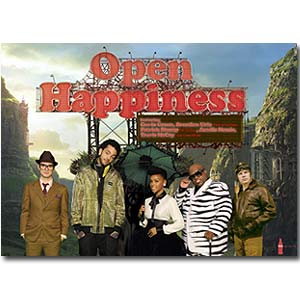 ---

The Coca-Cola Company and Warner Music Group's Atlantic Records have come together to record and release a new song featuring some of the hottest acts from the worlds of rock, pop and hip hop.

Titled "Open Happiness," the single features a unique mix of genres of music with the combined talents of the Happiness Factory composed of Cee-Lo Green, Fall Out Boy's Patrick Stump, Brendon Urie from Panic at the Disco, Travis McCoy from Gym Class Heroes and acclaimed, Grammy nominated songstress Janelle Monae.

The song is all about inviting people to share a little happiness and enjoy life's simple pleasures. The song also reflects the spirit of positivity, optimism and fun expressed in "Open Happiness."

Two superstar producers; Butch Walker (who co-wrote the track with Cee-Lo Green) and Polow Da Don produced the musical collaboration. These award-winning producers have set out to mix their worlds of rock and hip-hop and create a really cutting edge sound that brings the Open Happiness campaign of Coca-Cola to life.

These producers have been responsible for some of the most popular music of recent years and between them have worked with acts such as Usher, Kelis, Pink, Fergie, Pussycat Dolls, Avril Lavigne and Katy Perry.