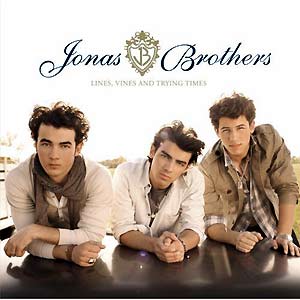 ---


The Jonas Brothers have just released their new album titled Lines, Vines and Trying Times. Siblings Joe, Nick and Kevin show their sensitive side in their fourth studio album.

The meaning of the title is simple. According to Nick, Lines are the lessons that we acquire in life. The wise words that are spoken to us as we go along this journey called life. Vines are the things that get in the way and Trying Times are the challenges that we face and the brothers hope that the music in their album will inspire other people to do great things.

Utmost anticipation rose ever since the first single, "Paranoid" was released. It garnered over 3 million views on YouTube in just ten days. It also topped Itunes, Billboards and U.S. charts right after its release.

Here in the Philippines, the single is already building up as it entered the countdown and certified Jonas Brothers fans are religiously voting away to get them to the top! The single was written by the brothers themselves with the help of Cathy Dennis who also wrote songs for the biggest names in music like Kylie Minogue and Britney Spears. The song reflects how The Jonas Brothers have evolved in their music that even the masters of music legends agree on working with them.

Aside from the attention that Paranoid got from people from across the globe, their song "Fly with Me" also became part of the soundtrack of the blockbuster movie, Night at the Museum 2 where the Jonas Brothers did the voice of the cherubs that came to life. The brothers picked the song as their favorite since it truly reflected their feelings while being on tour: how bad they wanted to be with their loved ones when they were far away.

Lines, Vines, and Trying Times comes with an enhanced CD that when inserted into a computer, gives access to never before seen videos like a behind the scenes look on how the album's photos were shot and a sneak preview of their new series on Disney Channel titled J.O.N.A.S. The songs in the album also feature special guests like Miley Cyrus for "Before the Storm" and top rapper Common for "Don't Charge Me for the Crime."

The new album of the Jonas Brothers, Lines, Vines and Trying Times is available in Special Jewel Deluxe Edition CDs. Stay posted at your favorite Odyssey and O Music Stores to grab Jonas Brothers freebies. The songs in the album as well as the hottest previous hits of The Jonas Brothers are also available for your cell phone via WAP.


ADVERTISEMENT - CONTINUE READING BELOW