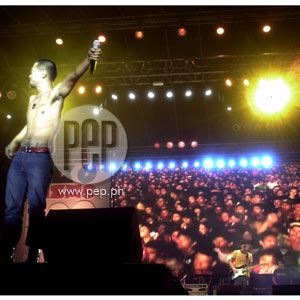 ---

Musical acts done for a cause are nothing new. Ever since abunch of Hollywood superstars sang the first notes to the mega-hit "We are theWorld" in 1985 that aimed to stop poverty in Africa,artists around the world followed suit and adapted acts for social concern.
There's the Band Aid group, composed of rock mavens U2,Duran Duran, and other artists who recorded the song "Do They Know It'sChristmas?" in 1984 to stop the faminein Ethipoia. Then Dionne Warwick, Stevie Wonder, Gladys Knight and Elton Johnrecorded "That's What Friends are For" in 1982 to fund AIDS research in the United States.Even reality show American Idol haslaunched its own concert for a cause, titled Idol Gives Back.
The Pinoy campaign called "Ako Mismo," however, promises to be different. Instead ofgathering together artists and fans to raise funds for one single cause, thefull-blown campaign started by the Philippine DDB Group, a collection ofcompanies engaged in the business of communications rallies together everyFilipino to think of his or her own pledge, whether big or small.
And to advocate this cause is as easy as logging on to akomismo.org, allowing the concerned citizen to announce his/her own pledge in the "wall of commitments."
The Ako Mismo Dog Tag Day concert was held last Friday, June 12, at the Bonifacio Global City Open Concert Grounds with around 40,000 people in attendance. The event was a mish-mash of several worthwhile causes, sandwiched between theperformances of top Filipino bands like The Dawn, Up Dharma Down, Kamikazee,Bamboo and Pupil.
But of the thousands who attended the event, how manyactually believe in its vision? Ako Mismo founder Susan Dimacali firmly believes that all the 155,000 current members of the group are dedicated tohelp the country in their own way.
"Ako Mismo is an advocacy na ang feeling namin na if mayroonkang gagawin, may pag-asa tayo, basta lahat tayo gumagawa nang sabay-sabay. Soindividual action, tapos collectively, maganda ang mangyayari," she said.
ADVERTISEMENT - CONTINUE READING BELOW
Dimacali, group president and CEO of Touch DDB, also believesthat through the concert will help distribute this "gameplan" to more youngpeople.
"There's clamor for the dog tags, there's clamor foractivities, hinahanap ng mga bata, e. So this [concert] is to fast-forwardeverything," Dimacali explained.
And the concert did fast-forward everything. At the eventgates, audience members were required to buy Ako Mismo dog tags for 40 pesos each.Wearing the dogtag around the neck gives the wearer a free concert pass, a hotfashion accessory, and an indication of adherence to AkoMismo's vision.Proceeds of the dog tag sales will be donated to partner charities like WorldVision, Caritas Manila and Gawad Kalinga.
The dog tags created a perceived unity between all the people in the venue. The youthspectators, therefore, felt united to the bands who played unforgettable actsinfused with social concern.
One such act was The Dawn, which teamed up with rap artistD-coy and singer Barbie Almalbis, to start the main concert with a tribute tothe late Pinoy hiphop king Francis Magalona. Up Dharma Down, meanwhile, also sang a tribute to activist nightingale Susan Fernandez. Bamboo, on the other hand, performed "Hallelujah," their signature songthat may contain revolutionary themes.
Other artists in the event were Kamikazee, which performed thenight's craziest segment; and Pupil, which brought the house down with Ely Buendia'ssignature Eraserheads song "Alapaap." Other performers that night were Kjwan, Hale, Stonefree, Juan Pablo Dream,Escabeche and other up-and-coming bands.
Lined up along the performances were celebrities who openlyprofessed their support for Ako Mismo. Basketball star and TV host Chris Tiuadvocated a greater respect for women. Young star Megan Young, meanwhile, askedthe youth to gain social concern. George and Cecil cast member Dino Imperial,meanwhile, asked everyone to promote Filipino talent.
But did the youth listen? They may be wearing the Ako Mismodog tags, yes, and they were cheering for the advocacies of the guests, but didit inspire them to change?
ADVERTISEMENT - CONTINUE READING BELOW
Perhaps, CNN hero Efren Peñaflorida said it best. The youthis not the future, the founder of multi-awarded volunteer teaching group Dynamic Teen Company explained, but thepresent. They do not have to wait for tomorrow to advocate for change. Now isthe correct time for the youth to act.

But if the scenario after the end of the concert is anyindication of the youth's adherence to Ako Mismo's passion, then we can say thatit is currently weak. Strewn all over Bonifacio Global City Open ConcertGrounds were discarded strips of paper, plastic, cigarette butts and otherwaste. Some of the trash cans were never even used.

The youth has a long way to go before they can helpwage the war against the country's gravest problems. More causes like Ako Mismo still need to hammer the apathy out of them.