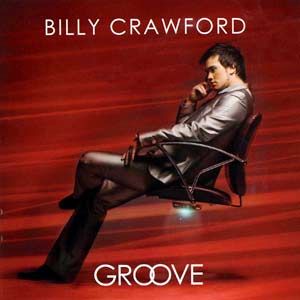 ---

Billy Crawford's new album Groove is a mixture of ear-friendlyand LSS-inducing tunes that aim to do what the title suggests: they will makeyou dance, and more.
Groove is Billy's sixth studio album. Released byUniversal Records, it contains suave versions of upbeat classics from the '70sand the '80s.
"Well the album is self-explanatory naman. When you saygroove, I think this album can hopefully make you groove so it's the first thatI've done a revival album. A good album, hopefully," the That's Entertainment alumnus said.
The first track, "Steal Away," which is also the carriersingle, is a welcome introduction to what the album's about. I know it ain't right, Billy teases, but let'ssteal away into the night. He wants you to get up and disco.
Other tracks such as Dr. Hook's "Sexy Eyes," BillWithers' "Lovely Day" and Earth Wind & Fire's "Let's Groove," add enoughspunk to keep you moving non-stop.


Billy also provides enough vanilla tunes to enliven the shy dancer who can onlysway on the dance floor. The Spinner's "Could it be I'm Falling in Love," AndrewGold's "Never Let Her Slip Away" and El Debarge's "Someone" adds charm to this record. In particular, "Could it be I'm Falling in Love's"urban-sounding intro-claps, makeshift tin drums, stomping feet-easilyhypnotizes, and convinces listeners that grooving is just easy.
ADVERTISEMENT - CONTINUE READING BELOW

But the international singer's passion shows most in his favorite tracks "RockWith You" and "Human Nature." Being a self-confessed Michael Jackson fan, Billyadmits that he had the most fun recording the two songs.

But his versions of the hits are not copycats. "Rock With You," forinstance, was sung in Billy's signature R&B style, complete with ad libsand a falsetto near the end. "Human Nature," on the other hand, sounds more hiphop,and is entirely sweet.

Billy also has a duet with his girlfriend Nikki Gil. In the song "You'veGot a Friend," originally recorded by James Taylor, the couple's voices blend easilylike magic, as if they were meant to sing the song together.


Love spells don't end there, however. James Taylor's "How Sweet it is," MarvinGaye's "Mercy Mercy Me" and Brian McKnight's "One Last Cry" are just so romantic,they make you wish you could dance with your special someone.
ADVERTISEMENT - CONTINUE READING BELOW

Billy Crawford's Groove is now available in record bars.