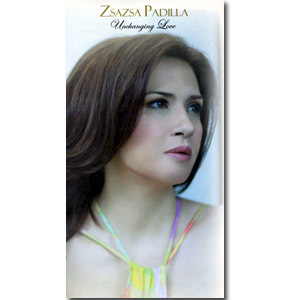 ---

There's something about Zsa Zsa Padilla. At 45, shecontinues to mesmerize audiences with her stunning vocals andstage presence—earning for her the title of "Divine Diva."
Now Zsa Zsa is back with a new album titled UnchangingLove under PolyEast Records. After seven years of being away from the recording scene, the captivating singer offers12 tracks that will surely touch the heart.
Only three tracks are original songs, and eight are remakes.Zsa Zsa, whose singing career spans 26 years, says it is her dream to make anall-original OPM album, and this made her shy away from recording albums,even though there were a lot of offers.
In the album launch held last June 11 at Discovery Suites,Zsa Zsa admitted that she finds it hard to look for good Filipino composers whocan write her songs. But PolyEast promised to help her do just that for hersecond album, so she agreed to record Unchanging Love.
"There's something about remakes," Zsa Zsa explained, "Whenbuyers pick up your album in record bars and they read a title of a familiarsong, there's comfort there for them to know that they can easily relate toyour album."
So for now, Zsa Zsa will treat us to her divine renditionsof our favorite OPM hits.
The carrier single "Hanggang," originally sung by WencyCornejo, is currently topping local radio charts. Her rendition is so touching that you'd wish you were in the place of her partner of twenty years, Dolphy, so you can feel her love too.
But don't fret. Her versions of the hits "Memories" (JoeyAlbert), "Nais Ko" (Miguel Vera), "Ikaw Lang" (Chad Borja), "Kung Alam Mo Lang"(Joanne Lorenzana), "Changes" (Carla Martinez), "Nasasaktan" (Reuben Laurente)and "Muli" (Vina Morales) are entirely believable that you'd surely fall in love all over again.
It's her new songs "Iibigin Kang Muli," "Kung," "UnchangingLove" and "Pagmamahal na Walang Wakas,"however, that will ensure the album's success.
ADVERTISEMENT - CONTINUE READING BELOW
"Iibigin Kang Muli" has a haunting intro. The lyrics, whichtell of unrequited love, are heartbreaking because Zsa Zsa sings them with somuch passion.
"Kung," on the other hand, starts with a beautiful pianocomposition, which compliments the sad lyrics of loss and hopeful redemption.

"Unchanging Love" and "Pagmamahal na Walang Wakas,"meanwhile, have the potential to become staples in wedding ceremonies around the country.
"Unchanging Love," in fact, was composed by Martin Nieverafor the wedding of Judy Ann Santos and Ryan Agoncillo. He adapted a beautiful Koreantune called "Jyongri," and incorporated his most poetic words so far. Every love song brings you back to me,the song says, and we fall in love instantly.
Lastly, Zsa Zsa dedicates "Pagmamahal na Walang Wakas," tothe future wedding of her eldest daughter Karylle.
"I would sing her this wedding song... 'Pagmamahal naWalang Wakas.' Actually yung lyrics, parang 'pag ikakasal na ang anak mo, hetona. I know the time would come. I just can't wait, I just hope that it would bea good marriage," she admitted.
The original songs in Zsa Zsa's new album "Unchanging Love,"plus her renditions of OPM favorites, are entirely memorable. The album is outnow in record bars around the country.


TRACK LISTING.

1. Unchanging Love
2. Iibigin Kang Muli
3. Memories
4. Nais Ko
5. Nasasaktan
6. Muli
7. Changes
8. Kung
9. Ikaw Lang
10. Kung Alam Mo Lang
11. Hanggang
12. Pagmamahal Na Walang Wakas