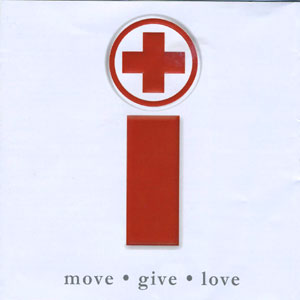 ---
The Philippine NationalRed Cross, in cooperation with Star Records, celebrates its 150thanniversary with the release of I Move. IGive. I Love—a compilation album for a cause featuring various artists ledby Toni Gonzaga, Erik Santos and Yeng Constantino.


For their active involvement in this worthy project, Toni and Erik were given a plaque of appreciation last June 23 at ABS-CBN's 9501 restaurant in Quezon City. The winner of Pinoy Dream Academy Season 1 was unable to attend the event but she was represented by Ms. Annabelle Regalado. (Click HERE to read related article.)
Personally handpickedby Red Cross Secretary General Gwendolyn Pang, the three mentioned singersrecorded the official anniversary theme song of the worldwide humanitarianorganization titled "Bagong Umaga."
Star Records managing director Annabelle Regalado said that the album shares the vision andprinciples of Red Cross and that is to extend help and compassion to those whoare in need. Selecting the artists together with the corresponding songs werealso done painstakingly, as Gwendolyn pointed out, "We really have to considerartists with a great sense of compassion."
TIEUP FOR A CAUSE. Toni Gonzaga expressed bothjoy and humility in being chosen to share her talent to a noble endeavor.
"Anything naman na mayconcern sa social awareness ng tao lagi naman kaming handa," said Toni. "Especiallyako, lagi akong handa na magbigay ng panahon, tulong at suporta dahil magandangproyekto para sa mga kababayan natin and at the same time this is one way ofsharing yong blessing na binibigay sa 'yo ni Lord."
Senator and PNRCChairman Richard "Dick" Gordon, who personally graced the album launching hopes that the projectwould serve as a vehicle to reach more people, particularly the youth. The senatorcollaborated with songwriter Trina Belamide to come up with the song, "AlwaysFirst, Always Ready, Always There."
Participating artistsinclude Nyoy Volante ("A Hero Has Arrived"), Aiza Seguerra ("Kasama"), RoselleNava ("Free"), Raki Vega ("Today"), Charice Pempengco ("It Can Only Get Better"),Kyla ("Tara Tena"), Akafellas ("Kaleidoscope World"), Karel Marquez ("Today I'llSee The Sun"), Charlie Green ("What A Wonderful World"), The Company ("Life Power"),and Pinky Marquez ("Always First, Always Ready, Always There").
ADVERTISEMENT - CONTINUE READING BELOW
Living up to PNRC'sspirit, all of the artists reportedly participated for free. Proceeds of thealbum will go directly to Red Cross. A mall tour will also be conducted tofurther promote this joint project.
TRACKLISTING.
Bagong Umaga
A Hero Has Arrived
Hawak-Kamay
I Believe I Can Fly
Power of the Dream
Kasama
Free
Today It Can Only Get Better
Tara Tena
Kaleidoscope World
Today I'll See The Sun
What A Wonderful World
Bonus Tracks: LifePower
Always First, Always Ready, Always There
Bagong Umaga (minus one)