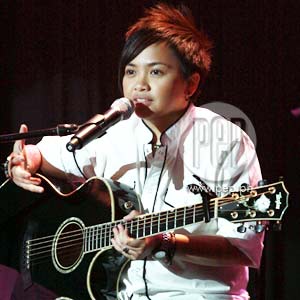 ---

Aiza Seguerra'stransition from a child star to a certified singer-performer is a rare feat notcommonly seen in the local entertainment industry.
While shifting fromacting to singing is not totally a novelty in show business where image reinventionincludes broadening one's horizon for commercial purposes, Aiza's case isspecial in the sense that the former EatBulaga! Little Miss Philippines finalist fought her way to be recognized asa serious singer-performer who is honest to her craft rather than follow thedictates of the game.
It was in 2001 whenAiza successfully shed off her child star image with the release of thehit single, "Pagdating ng Panahon." The heartwarming song catapulted Aiza to the localmusic charts while at the same time allowed acoustic music to penetrate mainstream radio.
The album itself made abig splash—impressive considering the fact that Aiza's debut record came out atthe height of the piracy problem that has plagued the industry for years.
Since 2001, Aiza has continuouslydished out albums showcasing her style of acoustic driven music. Her latestalbum, Open Arms, has reachedplatinum status in five different countries: Singapore, Malaysia, Indonesia,Taiwan and Hong Kong.


In addition, Aiza's songcollaboration with Bevlyn (a Singaporean singer-songwriter), "When YouSay Nothing At All" is now topping the radio hit charts in Singapore.
"Hindi ko akalaing tatangkilikin ng mga tao sa ibang bansa ang album ko,siyempre di naman nila ako gaano kilala, kaya overwhelming talaga ang feeling.A pleasant surprise indeed," Aiza enthused in an earlier statement given to themedia.
NEWLIVE RECORD. Still reeling from the success of Open Arms, Aiza assembled her band lastJune 26 at the Teatrino Promenade in Greenhills, San Juan, to record a livealbum set for a July release under Star Records.
Performing live while atthe same documenting the performance on tape entails tremendous pressure.Despite the nerves and occasional false starts in between numbers, Aiza alongwith her band pulled off an impressive show consisting of familiar andwell-loved OPM and foreign tunes.
ADVERTISEMENT - CONTINUE READING BELOW
"Actually this is my secondlive album pero this time talagang, kasi ito yong banda ko talaga, e, so thistime kasama ko talaga yong banda ko tapos 'yong mga kinakanta namin sa gigs. Imean very thankful din ako sa Star Records dahil hinayaan nila kami na gawin'to. Mas nag-i-enjoy kasi kami sa live [performance] kesa sa recording," Aizatold PEP (Philippine Entertainment Portal) after the show.
The songs, according toAiza, are the usual repertoire they deliver during live gigs and performances.
Aiza, likewise,performed her own composition, "Tanging Ikaw." An impromptu performance ofMichael Jackson's old hit, "Man in the Mirror," reminded everyone inside thevenue of the King of Pop's legacy and the void brought by his untimely passing.
Raimund Marasigan ofthe defunct yet legendary Pinoy band, the Eraserheads, showed up to play thedrums in the numbers "Magasin," "Huling El Bimbo," and "Huwag Mo Nang Itanong"—threeof the Eraserheads' most popular songs.
"Kasi tumugtog kamibefore sa Singapore tapos kinanta namin tapos narinig ni Raimund tapos parangnag-text siya noon kay Mike [Villegas, Aiza's lead guitarist] na 'Sayang, gustoko sanang tumugtog with you guys' tapos naisip nga namin na since may lalabasna ganito, kakantahin din naman namin yong songs ng Eheads ba't di natini-invite si Raimund. I mean, pangarap ko din naman na makatugtog sila," Aizaoffered, explaining Raimund's inclusion into the project.
Some of the songsperformed by Aiza were Seal's "Kiss From A Rose," VST & Co.'s "IpagpatawadMo," Janet Jackson's "Every Time," Queen's "Crazy Little Thing Called Love,"Color It Red's signature mainstream hit "Paglisan," Rizal Underground's"Bilanggo," and Gloria Estefan and Miami Sound Machine's "Anything For You" amongothers.