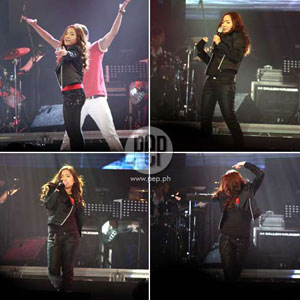 ---
The journey has indeed begun for the little girl with the big voice.

Hundreds of fans trooped to the SMX Convention Center, SM Mall of AsiaComplex in Pasay City last Saturday, June 27, to witness the international singingsensation perform in her first major concert titled Charice: The Journey Begins.

The one-night concert had a five-minute digital countdown before starting atexactly 9:00 in the evening.

The show opened with the band, led by musical director Gino Cruz—playing aninstrumental snippet of the Jennifer Holliday song—"And I'm Telling You I'mNot Going," a standard in Charice's repertoire. The multitude of fans eagerlyawaited the entrance of "the most talented girl in the world" but it seguedinto an audio-visual presentation on Charice's humble beginnings. It recalled howshe was discovered through the video-sharing site YouTube until she became a world-classrecording artist at the tender age of 17.

Charice, wearing a white gown designed by Avel Bacudio, waved to theconcert-goers and completed "And I'm Telling You..." with her own powerfulrendition. Immediately after her resounding opening number and nearly in tears,the 17-year-old singer thanked her fans for coming to her show, which shereally wanted to push through despite her having a cough.
ADVERTISEMENT - CONTINUE READING BELOW

"Salamat po sa pagpunta n'yo. Gustoko po talaga matuloy ang concert na ito. Pasensya na po kahit medyo inuubo papo ako," she declared.

She then sang Celine Dion's number-one hit, "My Heart Will Go On," which,she recalled, was one of the first songs she learned to sing as a young child.Another childhood favorite, "Somewhere Over the Rainbow," was also performedbut with a soulfully suave interpretation.


SHOW OF SUPPORT. For the first part of the program, Charice was joinedonstage by her Little Big Starbatchmates Gian Barbarona, Kyle Balili, Makisig Morales and Rhap Salazar for amedley of singing contest pieces. Their batchmate Sam Concepcion was unable toattend because he was in the UnitedStates at that time to perform in the Star Magic World Concert Tour.

"Sayang lang po wala si Sam," Charice told the crowd. "Sana lang, kung anditolang [siya], kumpleto na talaga tayo."

After changing into a yellow gown, Charice sang a condensed version of thesong that sparked international attention for her: Whitney Houston's 1992monster smash, "I Will Always Love You." While she was singing, Whitney's personalizedmessage to Charice was put on view for the audience through the video wallonstage. A duet with "the most important woman in my life" followed rightafter.
ADVERTISEMENT - CONTINUE READING BELOW

"Kung hindi po dahil sa kanya, hindi ko po alam kung anong gagawin kongayon... Siya po ang kasama ko sa hirap man o sa ginhawa. Siyempre po, dahilnakilala po ako as 'the most talented girl in the world,' gusto ko po siyangipakilala as 'the most talented mom in the world,'" Charice said about hermother, Raquel, who also wore a canary yellow gown. The mother and daughtersang the Paul William-penned Helen Reddy hit, "You and Me Against the World."

She also presented an original composition, "I'll Never Let Go of You," andBeyoncé's "Listen" to the delight of the audience.

As the concert went on, Charice sang "The Prayer" with Asia'sPop Idol, Christian Bautista. The Star ina Million alumnus churned out timeless OPM classics like "Nakapagtataka,"the Tagalog-infused "The Way We Were," "You," and his own hit, "So It's You,"in a medley he called an "OPM icons concert in one."


ADVERTISEMENT - CONTINUE READING BELOW
TRIBUTE TO THE KING OF POP. The young singer returned onstage wearinga red gown covered with a blazer as dancers from the Halili-Cruz School ofBallet performed an interpretative dance to the tune of another Whitney Houstonhit, "I Have Nothing." The Rosa Mystica Choir also joined Charice in performing"You'll Never Walk Alone" and "You Raised Me Up."

As the instrumental adlib of "Just Dance" (courtesy of the band) faded out,Charice wore an all-black glam-rock getup. This time, she showcased her dancingprowess, with help from an all-male group of backup dancers. She dished out GloriaGaynor's "I Will Survive," Beyoncé's "Halo," Lady Gaga's "Just Dance" one afterthe other.

One of the highlights of the show was when Charice paid tribute to MichaelJackson who passed away on June 25, just days before her own concert. Still inher black ensemble and with a glove on her right hand, Charice moonwalked onstage to the tune of Jackson'ssignature song, "Billie Jean."
ADVERTISEMENT - CONTINUE READING BELOW

Charice told the crowd that she was supposed to guest in the King of Pop's ThisIs It comeback concert series at the O2 arena in London, Englandscheduled to begin on July 13, 2009.

"Two weeks na lang po, kasama ko na sana siya onstage.Ipe-perform sananamin 'yung 'Billie Jean.' Pero, kinuha na siya ni God. Tayo pong lahat aynagpapasalamat sa kanya and we have all been touched by his dreams," Charicesomberly told the crowd, while still catching her breath after hersing-and-dance number. She ended her tribute with another Jacksonsong, his 1995 #1 hit, "You Are Not Alone," then segued to a video clip of Jackson being embraced bya fan while singing "She's Out Of My Life" in one of his concerts.

After her MJ tribute, Charice, dressed in a black gown with shimmeringaccents, dished out another medley that further demonstrated the powerhousebelter in her: Whitney's "Try It On My Own," Mariah Carey's "Through The Rain,"Celine Dion's "All By Myself," and the Whitney-Mariah collaboration, "When YouBelieve."


ADVERTISEMENT - CONTINUE READING BELOW
ORIGINAL DIVE MEETS YOUNG DIVA. The young singer announced midway through the concert that Asia's Songbird couldn't attend that night as the latterwas down with fever.

"Alam po nating lahat na another dream come true po sa akin ang maka-duet siRegine Velasquez, pero sad to say po, nagkasakit po siya. Na-ospital po siyakaya hindi siya nakapunta rito," explained Charice. Her announcement generatedmixed reactions from the audience, making her more nervous, in effect."Nanghinayang po ako kasi sa lahat ng idols ko rito sa Philippines, siRegine Velasquez na lang po ang hindi ko nakaka-duet. Pero siyempre po, masayapa rin po ako, actually, na-surprise po talaga ako. 'Di ko po akalain nadarating ang isa sa pinakamahalaga rin po sa akin."

At this point, Kuh Ledesma came out to share the stage with the youngsinger. "Ikinararangal ko na nandito ako ngayon sa first concert ng atingyoungest diva... Binibigyan niya po ng pride ang ating bayan... Charice, we loveyou for everything that you're doing and keep working hard and keep making allof us proud," said Kuh, adding that they practiced their duet, "Anak," at thelast minute. She was also impressed at how fast Charice learned the song.
ADVERTISEMENT - CONTINUE READING BELOW

After their duet, Kuh Ledesma sang "What Is Love?" solo before an awestruckaudience.

Charice, wearing a blue gown in her fourth change of outfit, then went backcenter stage and sang a shortened version of another Whitney Houston classic,"One Moment in Time," followed by Etta James' "At Last" (which was alsopopularized by Beyoncé, as U.S. President Barack Obama's inaugural song), and"Always You" (culled from Charice's Star Records album My Inspiration).


STANDING OVATION. Another highlight came when Charice performed "NoteTo God," backed by the Rosa Mystica Choir. This earned for her a standingovation from the audience, and prompted them to ask for more.

Unknown to most Filipinos, Charice's "Note To God" debuted and peaked at #44on the Billboard Hot 100 music charts early this month after topping theAmazon.com downloads chart and gracing iTunes top 10 songs chart in May.Billboard is the most authoritative and definitive music charts andentertainment publication in the United States.
ADVERTISEMENT - CONTINUE READING BELOW

The concert ended with Charice, already in a pink gown with blazer, singingher words of gratitude to everyone via the OPM classic "Paano KitaMapasasalamatan?" For her finale, she enjoined her family, friends and fans tosing with her onstage. She admitted that this song really inspired her to reachfor dreams when she was still starting with her music career: "Basta'tMaghintay Ka Lamang," which was popularized in the early '90s by singer TedIto.


Save for a few moments of dead air and production glitches understandable for alarge-scale concert first-timer, Charice mesmerized spectators with herdelightful mix of OPM hits and fast-paced songs during her first major concert.


Congratulatory messages on video from concert organizers and Charice's team andfriends, including her mentor, Canadian musician and producer David Foster,officially closed the two-hour musical event.