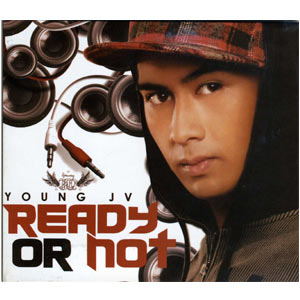 ---
New hip-hop artist Young JV is no stranger to fame. At eight years old, he competedin Hong Kong as a member of the SM Ice HockeyTeam. In his early teens, he became an endorser of street basketball forathletic apparel company And 1.
But it would only be at sixteen when he would discover his talent in hip-hop and rap music. At a party with his high school classmates, he wasswayed to do an impromptu beat. That started it all.
Now at 18, Young JV, or Eduardo JV A. Kapunan III,is all set to penetrate the Philippine music scene with Ready or Not, his debut album under PolyEast Records. The 15-trackCD contains the single "That Girl," which is currently enjoying radio airplay.
The young artist from Iloilo admits that it took him awhile to geta recording label to support his sound, because hip-hop music is not themainstream trend for Pinoy listeners.
"Hip-hop pa lang struggle na 'yun 'di ba? Hindi masyadong naa-appreciate ngmga tao ng mga masa," Young JV explained.
ADVERTISEMENT - CONTINUE READING BELOW
But he believes the popularity of American hip-hop artists such as Akonand Jay-Z can encourage local listeners to patronize his sound.
"It's a big opportunity for me to really prove to people nakaya naman 'yung tunog sa State, parang ganu'n? 'Di ba nga uso nga dito ChrisBrown, Rihanna 'di ba? So we're trying to break 'yung saying na 'di natin kayayun," the hip-hop artist said.
DEBUT ALBUM. Young JV originallyplanned to release an album titled Doin'It Big, but it was shelved because the producers felt it sounded "too hip-hop"and wouldn't sell. Thus, the artist relied on his individuality and recorded anew album with a more "commercial" feel.
The result was Ready or Not, an albumthat contains ear-friendly rap and R&B tunes. The themes of the song, composedby Young JV himself, vary—there's partying, barkadahan, love, nationalism and friendship.
"Kung ano yung feel ko susulatin ko. Like about girls, orabout God... party life ko. That's what beautiful about my songs kasi true storysiya. So hopefully yun yung makita ng mga tao for this album," he explained.
ADVERTISEMENT - CONTINUE READING BELOW
Most of the songs in Ready or Not have upbeat, club-party tempos like "Can't Get Enough," "Do the Snap," "Outro," "Kaibigan Lang" and"Lipad Noypi."
But Young JV also wrote a song calling for peace in Mindanao,titled "Kapayapaan." As a son of a retired Air Force officer who fought battlesin Mindanao, Young JV wants to promote peacethrough his music.
"I wrote songs about peace and love sa bayan natin, kasi hanggangngayon nandun pa yung giyera sa Mindanao.Hindi ako sundalo, e, so I'll write it to my music na lang, express ko yungfeelings ko sa kanta na 'yan for people to hear and understand," he said.
The hip-hop artist also wants to donate part of the proceeds of the sales ofhis album to the orphans of soldiers killed in the in the region, through hisown foundation.
"Ako, I'm all about lang peace and love, that's my advocacy forthe people. Gusto ko may purpose ako for my music," Young JV ended.
ADVERTISEMENT - CONTINUE READING BELOW
TRACK LISTING.
Ready or Not
That Girl
Doin' it Big
I Bet They Can't Do It Like That
Can't Get Enough
Do The Snap
The Way I Feel

Kapayapaan
Can I Kick It
Don't Know You
Lipad Noypi
Kaibigan Lang
Ola Chica
Shake Shake
Outro