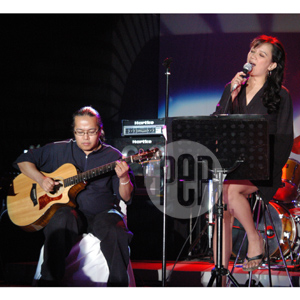 ---
It had all the glitz andglamour of a major film awards night, without the notoriously long lulls of a"live" telecast (which make those shows a true chore to behold), and much betterfood—it was YES! Magazine's 7th Anniversary Party, held last February 28at the NBC Tent, Global City, Taguig. Cooky Chua and I were given the honor ofbeing the first musical performance of the night.
Now, I'm used to playing theclassy clubs and the occasional ultra hip party. But little did I know it wasgoing to be a veritable who's who of local show business! Ma'am Jo-Ann [Maglipon, editor-in-chief of YES! Magazine and PEP] even hada diagram of table guests—who to sit where and who not next to! It reminded meof that scene in the movie In The Line Of Fire where Clint Eastwood kepta similar piece of paper, looking frantically for the President's assailant. Oh, but on to the music stuff!
Juan Pablo Dream is one of myfavorite local bands, with their brand of '60s influenced dance pop. I saw them play last at designer/pianistKate Torralba's birthday bash a few weeks ago, and they ROCKED! Sadly, their stickman Weslu—in this writer'sestimation, the country's best ska drummer—passed away on a motorbike mishapweeks prior to the YES! anniversary.
Weslu was in Put3Ska duringtheir heyday, and his grooves never failed to drive me to the dance floor whenthey toured with my group, Rizal Underground. But I'm sure the man was all smiles up in Heaven, looking down on anawesome performance by his still earthbound bandmates. Juan Pablo Dream has one of the steadiestrhythm sections around, and singer Bing was a psychedelia-clad Pinoy version ofthe Godfather of Soul!
Several times during theevening, I'd do a double take on the NBC Tent's big screen TV and staredumbstruck at Bing's profile—I could swear James Brown was with us from thehereafter!
ADVERTISEMENT - CONTINUE READING BELOW
Now, their penchant for '60s songswasn't lost on Ms. Jo-Ann either, as she and her incredible staff(keep those checks comin' guys!) had the awesome idea of putting their setliston menu-like lists and offering them up as sing-along songs for anyone in akaraoke state of mind. Only instead ofthe static and lifeless accompaniment you would get at home, you had a liveband—one of the best in the business—playing for you! How cool was that? Coolenough to entice Tirso Cruz III onstage to belt a stirring version of "MyGirl!"
Now, I'm as knowledgeableabout current showbiz popstars as I am of Advanced Rocketry, but who doesn'tknow Pip?!!! And to see him crooningwith the grooving made my night! (Thatand the lechon, but that's a whole other blog...)
Next up? The Boyfriends! Yes, those headliners from yesteryear never seem to have left,and their brand of vocal harmony still rings true through the ears of everyPinoy generation. Ang sarap pakinggan ng mga kanta! In this age of computerized recording and auto-tuned vocals, it wasso refreshing to hear old-school vocalizing done perfectly—and with every singer playing an instrument! An extra bonus was the keyboardist as cameofrom another Pinoy band legend, Abracadabra. I only knew about it when it was pointed out to me by Juan Pablo'ssinger from offstage, and it was a thrill hearing the pillars of Pinoy rockshaking the Tent's scaffolding with sheer volume!
All in all, it was a night ofgreat music peppered with stars, and it was an honor to be a part of it! Yes, indeed! Yes! Yes, indeed!
For more photos of YES@7, check the April 2007 issue of YES!Magazine, available now in leading bookstores and magazine stands nationwide.