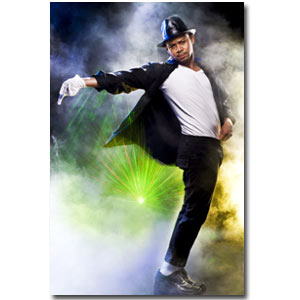 ---
It was April of last year when LukeMejares staged a successful one-night concert at the Music Museum in San Juan,Greenhills featuring the music of international pop icon, Michael Jackson.
The concert titled, Luke... It's Michael Jackson!, was designed for Luke to incorporateJackson's signature pop to his own brand of R&B music.
"The songs in Luke ... it's Michael Jackson! will be a soothing mixture ofR&B and pop, which is how I really wanted to define my musicality in thefirst place. So in this concert, I chose to sing the pop hits of MichaelJackson that I will merge with my own R&B style," explained Luke daysbefore the 2008 show.
TRIBUTECONCERT. June25, 2009 will undoubtedly be remembered as one of the saddest days in the worldof music as it marked the death of Michael Jackson, who at the time of hispassing was about to make a late career comeback to reclaim his rightful placeas The King of Pop.
ADVERTISEMENT - CONTINUE READING BELOW
Jackson's untimely demise instantly usheredin tributes all around the globe. For local R&B artist, Luke Mejares, thepassing of his idol encouraged him to celebrate anew Michael's inspiring lifethrough a special concert on July 31 billed as Michael Jackson The Tribute Featuring Luke Mejares.
Compared to last year's event, theupcoming concert aims to salute Michael's lasting legacy with Luke performingJackson's hits and well-loved singles.
Though the show was designed to honorMichael in the wake of his unexpected demise, Luke said that the concert aimsto be a joyous reminder of Jackson's huge contribution to the world of music.
As a singer-performer, Luke has made nosecret of MJ's lasting influence when it comes to his music. Luke's flexiblevocal style ranging from falsetto to pure soul undoubtedly makes him one of thefew local artists worthy enough to give justice to any Michael Jackson number.
Participating in the special concert areThor, The Manouevres and the Sabado Boys composed of Paolo Santos, Top Suzara,Jimmy Bondoc, Mike Chan and DJ Myke.
ADVERTISEMENT - CONTINUE READING BELOW
Catch Michael Jackson The Tribute Featuring Luke Mejares on July 31 atthe Music Museum in Greenhills, San Juan.
Tickets are now available at the MusicMuseum (721-6726) and all TicketWorld (891-9999) outlets.