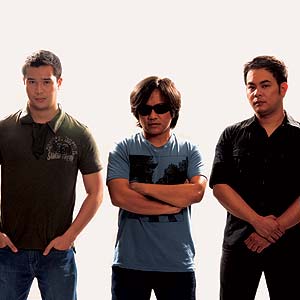 ---
The realization that Sugarfree has beenactively around for ten years already still renders frontman and chief lyricistEbe Dancel in total disbelief.
As a struggling band dreaming to beheard back then in the local rock n' roll stage, Sugarfree was on the verge ofcalling it quits. After a couple of hits and misses, mainstream success finally caught up with the release oftheir debut album, Sa Wakas (2003).Sugarfree followed up Sa Wakas withplatinum sellers Dramachine (2004)and Tala-Arawan (2006).
Churning out successive hits one afterthe other, "Mariposa," "Telepono," "Burnout," "Sinta," "Hari ng Sablay,""Prom," "Kuwarto," "Tulog Na," "Kung Ayaw Mo Na Sa Akin," "Dear Kuya," and "WagKa Ng Umiyak," Sugarfree proved its commercial viability and resiliency by withstanding the ever changing taste of the listening public.
CELEBRATINGA MILESTONE. Fastforward to 2009, the band will now mark its tenth year in the music industry. Frontman Ebe, drummer Kaka Quisumbing (who joined theband in 2006 to replace longtime drummer, Mitch Singson) and bassist JalTaguibao are buckling down to celebrate Sugarfree's decade-long existence witha new album and two-night special concert.
ADVERTISEMENT - CONTINUE READING BELOW
"Hindi lahat ng banda umaabot ng tenyears," Ebe told PEP (Philippine Entertainment Portal) over a glass of red icedtea in a recent interview. "We feel very blessed. It's been a great ride so farand I'm looking forward to the next few years."
The idea to stage an anniversary concertstemmed from the three-piece unit's desire to share the special occasion to allthe fans and loyal listeners who patiently stuck with the band through thickand thin.
One again, the Manila Symphony Orchestra(MSO) will join the band onstage to further enrich Sugarfree's distinct pop melodictunes.
The concept of incorporating live stringarrangement into the band's music is not entirely new. Sugarfree, together withthe MSO, collaborated two years ago in a concert held at the Music Museum. EMIPhilippines (now PolyEast Records) released the record as a live two-disc albumin 2008.
Ebe shared in recollection: "It was avery overwhelming experience for us. I think 'yong hangover ko sa concert nayon lasted for a few months. Every song we played that night parang may magicna nangyayari na hindi mo maipaliwanag.
ADVERTISEMENT - CONTINUE READING BELOW
"I mean what better way to celebrate tenyears than do something which you've done successfully two years ago."
But one can expect a much better show ascompared to its predecessor owing of course to the reason behind the spectacle.For one, the band's new manager Karin Araneta tapped a new production team to complementthe band and the orchestra unit led by Silent Sanctuary's Chino David.
More importantly, Sugarfree will makethe show at least a bit different from the one they previously did as what Ebeexplained: "Siyempre the dynamics of the band has changed since two years agoso I think everything will come out naturally when it comes to the changes thatwe will incorporate in this one."
Catch Sugarfree's special anniversaryconcert, Dekada, on August 28 and 29at the Music Museum in Greenhills, San Juan. Ticket prices are at P900(Orchestra Center), P700 (Orchestra Side), and P500 (Balcony) and are availableat the Music Museum (721-6726) and all TicketWorld (891-9999) outlets.



ADVERTISEMENT - CONTINUE READING BELOW