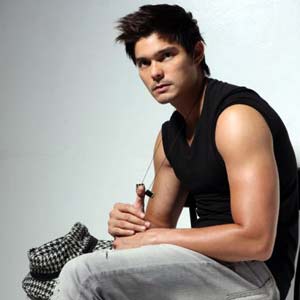 ---
Get the chance to take home The Dingdong Dantes Experience!

This unique album is anaudiovisual project conceived by Universal Records for the Ultimate Pinoy HunkDingdong Dantes. It's not just the first project Dingdong Dantes has with arecord label, but also the first time that any local celebrity will release such anexciting concept.


The 'VISUAL' side includes a mini coffee table book/scrapbook containingexclusive images of the GMA-7 star and a DVD featuring 4 musicvideos shot by topnotch music video & commercial directors exclusively forthis project.


Directors like Louie Ignacio ("Cucu Oh Yeah" musicvideo), Rico Gutierrez & Shoti Benares ("I Know You Want Me" by CalleOcho music video), Adrian Calumpang ("Shining Star" musicvideo) and Treb Monteros ("Tender Love" music video), worked closelywith Dingdong Dantes in conceptualizing the look and feel of each music video.These videos are, after all, Dingdong's babies. The beautifully photographedmini coffee table book/scrapbook showcases the serious, the playful and thesexy sides of Dingdong. These exclusive photos are only available in this bookand have never been published elsewhere. Also included are some behind-the-scenes pictures taken during his music video shoots.

The 'AUDIO' side is actually a CD containing 6 international hits personallyselected by Dingdong Dantes. Songs range from R&B/hip hop tracks to clubhits and even a tender ballad. These are: the #1 Billboard smash "I KnowYou Want Me (Calle Ocho)" by Pitbull, club favourite "ShiningStar" by Get Far, "Tender Love" by Jordan Knight and theinfectious Latin-flavoured carrier track "Cucu (Oh Yeah)" by MiguelFernandez.

Dingdong started in showbiz as part of the male dance group called AbztractDancers. At 17, teenagers fell in love with him when he essayed the role of thedebonair boy-next-door Iñaki in GMA 7's youth-oriented show T.G.I.S. (Thank GodIt's Sabado). From then on, the public followed his career as hemade more movies and even became a host in shows and beauty pageants.

He eventually landed a major role asKing Ybrahim in the Encantadia fantasy-themed television saga on the Kapuso Network. His popularityskyrocketed in November 2007 when he portrayed Sergio Santibañez inthe local version of the Mexican hit series, Marimar. He was then paired with Marian Rivera and their loveteam was again featured in the remake of Dyesebel. Their last project TV together was the Carlo J. Caparas classic Ang Babaeng Hinugot sa Aking Tadyang.

Dingdong is now regarded as one of thehottest leading men in local showbiz, with a wave of commercial endorsements: Goldilocks, Bench, Medicol, Touch Mobile (TM), San Mig Light Beer, Ponds etc.

Last year, E! Entertainment included Dingdong on their list of 25 Sexiest Menof the World. Dingdong is the only Filipino included, making him the highest-rankingAsian who made the prestigious list. E! Entertainment is one of the largest and mostpopular networks in Hollywood and the mostsubscribed network around the world, which is available to 88 millionsubscribers in the U.S.and 600 million homes internationally.

The Dingdong Dantes Experience is available in 2 formats: Book+DVD+CD and VCD+CD. It will be publicly launched tomorrow, July 19, on GMA-7's Sunday variety show SOP.

ADVERTISEMENT - CONTINUE READING BELOW