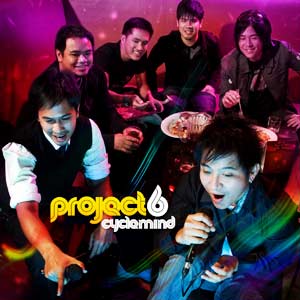 ---
How does it feel to have one'sself-penned songs previously recorded—and popularized—byother artists, and offer them anew to the discriminating ears of themusic-loving Pinoy public? The band 6cyclemind has the answer.

"Ang weird ng pakiramdam na nagkaka-pressure ka na gawin yung sarili mong [mga]kanta, na sinulat mo, kasi ginawa ng ibang tao. Parang, 'pa'no nangyari 'yun?'"shared drummer Tutti Caringal during the casual, intimate launch of their newalbum, Project 6cyclemind, at Red BoxKaraoke in TriNoMa last July 15. "Napakabago sa amin nun."

He jokingly adds, "Alam mo 'yun? Bad trip, hassle eh!" followed by a burst oflaughter from other band members. "Tapos, akala naman nung iba, nanguha nanaman kami ng song, hindi naman."

And why would they? With the members' impressive songwriting skills, otherartists even wanted and asked the them to write songs for their albums, asidefrom writing songs for their own albums. Likewise, 6cyclemind also interpretedtheir own versions of hits in some compilations, such as "Prinsesa," "UpsideDown" and "Dinamayan."
ADVERTISEMENT - CONTINUE READING BELOW
POP-ORIENTED, VIDEOKE-FRIENDLY. So for their fifth studio album, drummerTutti, lead vocalist Ney Dimaculangan, rhythm guitarist-cum-backup vocalist RyeSarmiento, lead guitarist Chuck Isidro, bassist Bob Canamo, and their sixthmember, manager Darwin Hernandez gathered together all their previous"for-others" projects in one set.

"Most of the songs in Project 6cyclemindare those that we came up with and gave to other artists. This time, we did ourown versions and combined them in one album," said Ney. Chuck added: "Somesongs were made and were recorded very early and we think that now is the perfecttiming for them to be heard."

The latest release coincides with the band's eight anniversary in the musicindustry. The band's last outing was 2007's Fiesta!Magsasaya ang Lahat, which churned out the hits "Aaminin" and "Saludo."

When asked how different the Project6cyclemind compared to their previous albums, the band unanimouslydescribed it as "videoke-friendly."

"I think it is more pop-oriented, more commercial, in terms of arrangement fromthe originals to covers," Ryesaid.

Ney pointed out: "'Pag pinakinggan ng mga tao yung mga kanta, ilang ulit lang,masasabayan na nila. At 'pag tiningnan nila yung cover ng album, makikita nilayung videoke scene, which conveys that the songs in the lineup are familiaralready kasi nga narinig na nila ang mga 'yan, even before we did them for thisalbum."
ADVERTISEMENT - CONTINUE READING BELOW

No heavy rock ditties this time?

"No heavy guitars. But in certain songs, may 'rakrakan' element pa rin, butthis time, more of upbeat yung tracks, pero hindi rin more of solid na gitara, though,hindi naman kami talaga naging sobrang heavy," described Ney.

Project 6cyclemind is bannered by the carrier single "Walang Iwanan" whichthey did in 2005 for an artist called Popfilter. The song also reflects whothey are as a band.

"We have been through challenges, the happy times and the tough ones, butwhatever happens, we are still together and will continue to be... Literally likethe song 'Walang iwanan sa amin,'" Ney said.
SIXTH FOR FIFTH. The band revealed that their latest album wasslated for their sixth release. "Sa totoo lang, naka-set na kasi 'tong album na'to na pang-sixth. Naka-ready na talaga 'yung fifth album, pati 'yung seventhalbum namin. Nag-change of plans lang kami nung magre-record na kami sa studio.Naisip namin na ilabas 'yung sixth album na pang-fifth, parang panggulat na rinsa fans and supporters namin," disclosed Tutti.
ADVERTISEMENT - CONTINUE READING BELOW

6cyclemind has achieved a lot since they were formed in 2001 and becamerecording artists with their debut album, 2003's Permission To Shine.

Then up and coming artists (and now popular bands) approached them for somehelp and they readily obliged. Callalily's debut release in 2006 included6cyclemind compositions "Dream" and "Takpisilim." Moonstar 88 will beremembered for one of their hits "Sa Langit," again, courtesy of the band. Thesame goes for solo artists Danita, with her singles "If Only" and "Kung Wala KaNa," and Pinoy Dream Academy Season 1finalist Chad Peralta for "Kasalanan."

The band's songwriting specialty also took their music to the television seriesroute via "Mahiwagang Pag-Ibig," interpreted by Pinoy Big Brother Teen Edition alumnus Aldred Gatchalian for theABS-CBN afternoon series Love Spell, and"Pangarap," a hit by Karel Marquez which was also used in a Koreanovela.

One of today's most in-demand bands that they are, 6cyclemind was included in TheEraserheads tribute album Ultraelectromagneticjam,where they recorded their own version of "Alapaap," as well as in the Hopia, Mani, Popcorn compilation wherethey cut the Sampaguita track "Bonggahan." Likewise, the band took time to offersocial aid via "Sagot Kita," a song they recorded for the ABS-CBN Foundation.Of course, who can forget the popular Tanduay jingle "Noon at Ngayon"?
ADVERTISEMENT - CONTINUE READING BELOW

These songs (save for "Bonggahan") are all included in the 12-track Project 6cyclemind. Other numbersinclude collaborations with critically-acclaimed rap artist Gloc 9 and WendellGarcia of the band Pupil ("Kasalanan"), and with Maestro Ryan Cayabyab("Takipsilim").

Project 6cyclemind is available in CDs under Sony Music.
TRACK LISTING:
1. Alapaap
2. Noon at Ngayon
3. Kasalanan (featuring Gloc-9& Wendell Garcia of Pupil)
4. Pangarap
5. If Only
6. Mahiwagang Pag-ibig
7. Takipsilim (featuring Mr. RyanCayabyab)
8. Sagot Kita
9. Sa Langit
10. Dream
11. Kung Wala Na Nga
12. Walang Iwanan