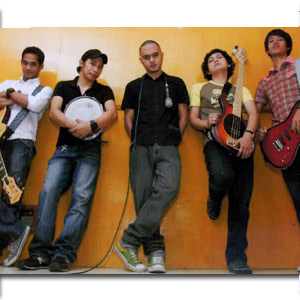 ---
Gaining entry in a highly competitive musicindustry is one gargantuan task for any fledgling band. But gaining second crack at the businesscould prove to even more daunting.
Independent pop-rock band Syato starts allover again with the release of its new album titled, Sticking By, distributed by Candid Records. The band's eponymous debutalbum was released way back in 2005 under a different label. Unfortunately, personnel changescoupled with other factors stalled the band's burgeoningmainstream career.
With Syato literally in limbo, bassistand founding member Yugel Losorata sought new members to keep the band from driftinginto complete oblivion. After struggling to find the right combination, Syato'sreincarnation was finally assured with a lineup composed of Yugel, MarkVillagomez (lead vocalist), JM Delos Santos (rhythm guitar), Meng Villarmino(lead guitar), and Macky Brosas (drummer).
Starting from scratch, Syato once againtook the long and hard road to regain the respect of their peers and thediscriminating rock audience.
Yugel recalled playing a handful of gigsbefore a small audience: "Meron kaming gig na limang tao lang ang nanunood.Medyo nakakalungkot kasi itinodo mo tapos konti lang yong nakakita. Yong ibasiguro magfu-fold up na maranasan yon ganun. Kami yong ginagawa namin [iniisip]na lang namin, 'Matatapos din to' parang ganun. May halong drama talaga, e."
ADVERTISEMENT - CONTINUE READING BELOW
SECONDCHANCE. Throughconstant practice, playing live and with new materials coming out from the band'screative pipes, Syato entered the studio to record what would be their comebackalbum.
"Musically pure pop 'yon, e," said Yugelin describing Syato's old sound. "This one, definitely mas naging rock to... We'llsee kung paano tatanggapin pero whether kung tanggapin yan o hindi masyadosiguro we're just happy na marinig yong song namin and 'yong album."
Syato's 10-track album consists of compositions all showcasing the five-piece unit's mastery of mixing pop withalternative rock.
StickingBy'sdebut single, "Tibo," is currently enjoying airplay both in radio and musicchannels across the country. Yugel reportedly penned the song after Mark eggedhim one evening to write something about pretty lesbians.
All of the songs included in the recordoffer interesting stories intertwined with catchy melodic tunes. Oneexample is the album's opening track "Jeddah Queen"—a retelling of anurban legend involving a Filipina woman videotaped while having sex with aforeigner (who is NOT her husband). The scandal—set in Jeddah, SaudiArabia during the '80s—became knwon publicly when the Filipino husband witnessed the tapeduring a drinking spree with friends.
ADVERTISEMENT - CONTINUE READING BELOW
The rest of the tracks—"Gabing Bilog AngBuwan," "Broken Tuesday," "Bighani," "Sticking By," "Kung Wala Ka Na," "XmasRush," "Panaginip Lamang," and "Heroes"—brandished the group's chops as songwriters.
To promote their new album Sticking By, Syato will embark on a tourcovering selected Padi's Point bars this coming August and September: August 1(Binan, Laguna), August 6 (MOA, Pasay City), August 7 (Starmall, Alabang),August 13 (Novaliches), August 14 (Las Pinas), August 20 (Araneta, Cubao),August 28 (Baguio), August 29 (Dagupan), September 18 (Avenida), and September 30(Edsa, Shaw).
TRACKLISTING.
Jeddah Queen
Tibo
Gabing Bilog
Broken Tuesday
Bighani
Sticking By
Kung Wala Ka Na
Xmas Rush
Panaginip Lamang
Heroes