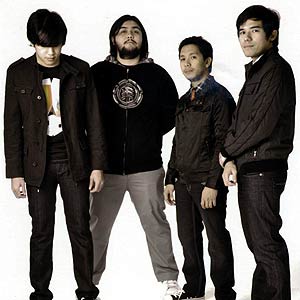 ---
There's a reason why Hale—the popularpop-rock quartet who burst into the music scene in 2005 with the massive radiohit, "The Day You Said Goodnight,"—chose to present its fourth album like a hardboundbook.
Kundiman, according tofrontman Champ Lui-Pio, signifies a new chapter for the band reinforced mainlywith the entry of new drummer and former Join the Club member Pao Santiago.
"The transition was very smooth and verynatural," Champ told PEP (Philippine Entertainment Portal) during theroundtable interview conducted on July 29 at the PolyEast Records office inQuezon City.
He was pertaining to the necessary fine-tuningmade by the band following the departure of original drummer Omnie Saroca.Omnie reportedly quit the group to pursue other ventures and to review for anarchitectural board exam.
"Not a lot of people know that Pao usedto be our bandmate pero hindi pa Hale ang pangalan [namin] nun. We were still starting,still building up the [earlier] songs and si Pao 'yong nagda-drums. So when hecame back to the picture it's not really an adjustment kasi matagal na naminsiyang kilala at kaibigan."
ADVERTISEMENT - CONTINUE READING BELOW
WORKINGAT HOME. Thechange in personnel likewise inspired the band to record the follow-up to2008's Above, Over and Beyond.
And like its predecessor, Kundiman was conceived, created andrecorded outside the confines of a formal recording studio. Convening inguitarist Roll Martinez's home studio, Hale worked fastidiously as usual thoughcomfortably minus the common concerns experienced in a rented studio.
"Walang time pressure," bassist SheldonGellada, who's very particular with the expensive studio rent and strictrestrictions, confessed.
But unlike the previous album where theband members divided production duties among themselves, Hale enlisted the services of Mayonnaise frontman Monty Macalino andhighly-respected studio whiz Angee Rozul to oversee the entire process.
Tapping Monty and Angee allowed the bandto expand not just their creative ideas. Having a seasoned and savvy producerlike Angee polished certain technical glitches previously ignored by the band.
"More heads may okay," rationalizedChamp. Sheldon agreed, "Tsaka malaking bagay yong input from someone na hindikasali dun sa band. Importante din 'yon."
ADVERTISEMENT - CONTINUE READING BELOW
Recording took only two months tocomplete—a staggering quick phase in today's standards for a full-length album. It was even shorter byRoll's estimation: "Natapos namin siya in the span of two months pero we wererecording twice a week so pagka inipon mo siya lahat more or less two weekslang."
Champ attributed everything tocamaraderie inside the camp, saying, "The chemistry is just undeniable. Mabilismasyado 'yong flow kasi we're having fun and we're comfortable with theenvironment. Tsaka we have something to prove with each other so parang maykanya-kanya kaming motivation as musicians."
ALLTAGALOG SONGS. Kundiman also marksanother milestone in Hale's young recording career.
The seed to come up with an albumcomposed of songs all written in Tagalog was planted after Champ dared himselfto pen something different brimming with local flavor.
"With this new batch of songs I wasthinking of writing something different lang for a change. It all started with 'Bahay Kubo.' It's a love song but then the attack was just different and Iwanted to go in that direction which is very Filipino. So I thought, 'Ano kayapuwede kong sulatin na kakaiba?'
ADVERTISEMENT - CONTINUE READING BELOW
"Tapos iyon I thought of writing a songabout kalesa, kasi yong uncle ko taga Binondo and I used to ride the kalesa alot so ayon lang sulat na ko about kalesa. Tapos love ulit, 'Aso't Pusa,' whichI'm sure a lot of people could relate to because wala namang relationship naperfect, minsan may times na para kayong aso't pusa, away kayo ng away."
Writing in Filipino is not an entirelyalien ground for the band as proven by their earlier hits like "Kung Wala Ka"and "Kahit Pa." But the challenge of filling up an entire album with materialswritten in the vernacular is no joke creativity wise.
On the comfort level Champ rates hisFilipino sensibility as a songwriter: "Sa tingin ko okay na ko. I really trustmy bandmates and we have a certain level of respect na like 'pag may pinarinigako sa kanila we could critique each other and 'yon nga nung thumbs up sila sanasulat ko that gave me more confidence to keep on writing."
ADVERTISEMENT - CONTINUE READING BELOW
Hale's latest album, Kundiman, is now available at recordbars nationwide courtesy of PolyEast Records.
TRACKLISTING.
Bahay Kubo
Kalesa
Aso't Pusa
Ulap
Magkaibang Mundo
Bulalakaw
Yakap
Harinawa