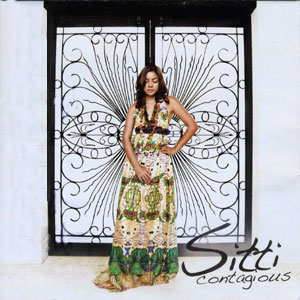 ---

"Ah bakit Contagious?Gusto namin na people will be infected and then spread [the album]."
That was how Sitti, the "Queen of Bossa Nova," explained thetitle of her fourth studio album under Warner Music. Lifted from a cut in the16-track album titled "Promises—A New Day For You," Sitti said the word "contagious"fits what she wants to do: infect listeners with her bossa nova charm.
And why not? Sitti's renditions of 15 contemporary songs bya varying range of artists, including Annie Lennox, Sade, Basia, Antonio CarlosJobim, and others, are infused with Sitti's signature and unique singing stylethat takes listeners to a "different plane, different world where only themusic exists."
This intimacy with her music earned for Sitti three best-sellingalbums since her debut in 2006. Café Bossaand My Bossa Nova earned Platinum record awards,while the Christmas record Ngayong Paskowas certified Gold. "Is This Love," the only original song and the carrier single ofthe fourth album, meanwhile, is doing well in terms of radio airplay.
ADVERTISEMENT - CONTINUE READING BELOW
Sitti, however, said her favorite cut in Contagious is "Adia," popularized by byCanadian singer-songwriter Sarah McLachlan.
"Top of mind ko 'Adia,' e. It's a song of friendship.Friendship na sometimes you fail each other but yet you still believe in thebest in the other," Sitti explained.
The song, a haunting and apologetic song about a failed relationship, was also one of the tracks she had a hard timere-imagining.
"Yung mga songs na nagkaroon talaga ako ng second thoughtsyung "Do You Really Want To Hurt Me" (Culture Club). 'Adia' rin.Niyu-Youtube kasi namin yung mga kanta habang pinipili namin tapos sabi ko, kayako ba 'yan?" Sitti recalled.
Sitti said she only pulled off the song after forcing herself to feel really sad, and reflecting in a favorite quiet place.
"Nagpakalungkot ako ng todo. Most of the songs that we didparang pang heartbroken, malungkot, there is a certain sadness. Nung mga timenanire-record namin 'yan nagpupunta ako ng Batangas... nagbi-beach kami," Sittiexplained.
ADVERTISEMENT - CONTINUE READING BELOW
But her efforts paid off because "Adia" became the favoriteof the album's early buyers, enough for it to become the second single.
Contagious is nowavailable in major record bars nationwide.
TRACK LISTING.
Your Love is King
How Insensitive
Is This Love
Adia
Chega de Saudade
A Certain Sadness
So Em Teus Bracos
Dindi
La La Means I Love You
Do You Really Want to Hurt Me
No More I Love You's
Let Me In
Promises—A New Day For You
One on One
Till There Was You
Bossa Nova Baby