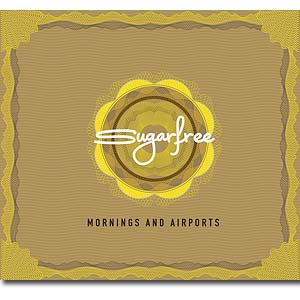 ---
Ten years after and Sugarfree is showing no signs of slowing down.
In fact, life as a rock n' roll band hasturned out to be more gruelingly hectic for the trio of Ebe Dancel, JalTaguibao and Kaka Quisumbing as mainstream success and expectations grewexponentially over time.
Band members are often branded as reckless,interested only in living a cliché lifestyle full of excess and hard partying.The truth is, like other working musicians trying to make ends meet, bands workthemselves to the ground in order to survive.
The widow of the late rapper FrancisMagalona once told this writer that musicians, regardless of one's stature inthe industry, don't earn their keep through record sales and even through song royalties.
MORNINGSAND AIRPORTS. Sincethe release of the band's three previous studio albums Sa Wakas (2003), Dramachine(2004), and Tala-Arawan (2006), thethree-piece unit known for writing melodic pop-rock tunes has grown accustomed (andoccasionally disillusioned) with life as a touring band.
ADVERTISEMENT - CONTINUE READING BELOW
Despite the platinum status of the band'salbums as boosted by numerous hit singles ("Mariposa," "Telepono," "Burnout," "Sinta""Hari ng Sablay," "Prom," "Tulog Na," "Kung Ayaw Mo Na Sa Akin") doing livegigs in and outside Metro Manila have always been Sugarfree's bread and butter.
Manager Karin Araneta painted theband's working routine vividly, saying, "The band hasfound itself performing as far as Aparriin Northern Luzon and Saranggani in Southern Mindanao, stealingcatnaps in nearly every airport around the country en route to their nextdestination. It has become almost customary for Ebe Dancel, Jal Taguibao, and KakaQuisumbing to spend weekends, holidays, and special occasions away from home."
Reflecting on theband's decade long lifestyle as a travelling act, chief songwriter and vocalistEbe—during the time Sugarfree was toiling at the studio to record a new album—suddenlysaw it fit to highlight this side of the band's existence.
The result is Mornings and Airports, Sugarfree'sfourth full-length album under PolyEast Records (formerly EMI Music).

ADVERTISEMENT - CONTINUE READING BELOW
HAY BUHAY. The album's title turned out to be indicativeas well of Sugarfree's departure from old tradition. It also represents theband's new direction, signaling a new phase and a new chapter in the band's history.
For one, Mornings and Airports consists of songspenned both in English and Filipino. For a band known for writing great songs dominantlyin the native language, the move was both brave and risky.
The record was atotal team effort as bassist Jal and drummer Kaka took part in the songwriting process,with the materials arranged and recorded the same way these songs will beperformed live.
Incorporating slightchanges here and there, however, doesn't mean ditching Sugarfree's distinctsignature melodic pop hooks, as assured by Ebe in a recent interview with PEP(Philippine Entertainment Portal).
Ex-Eraserheadsbassist Buddy Zabala teamed up with Romel "Sancho" Sanchez in producing thealbum. Buddy, incidentally, co-produced the band's second and best-sellingalbum to date Dramachine along with formerE-heads comrade Raimund Marasigan.
ADVERTISEMENT - CONTINUE READING BELOW
Sugarfree alsoinvited guest musicians Chino David and Anjo Inacay of Silent Sanctuary(strings) and Richie Gonzaga of Corporate Lo Fi (trumpet) to complement some ofthe numbers.
The first single is "HayBuhay," a song which "represents the joys and pains of this band for the pastten years," said Ebe.
Mornings and Airports is now available at recordbars nationwide courtesy of PolyEast Records. The album launch will be held onAugust 19 at SaGuijo in Makati City.
Sugarfree will also celebrateits tenth year in the business with a special two-day concert (August 28 and 29)titled Dekada at the Music Museum inGreenhills, San Juan.Ticket prices are at P900(Orchestra Center), P700 (Orchestra Side), and P500 (Balcony) and are availableat the Music Museum (721-6726) and all TicketWorld (891-9999) outlets.



ADVERTISEMENT - CONTINUE READING BELOW