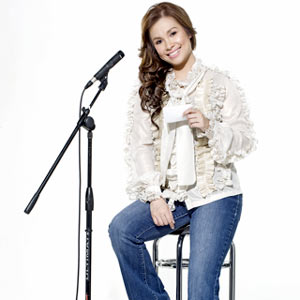 ---
Your favorite songs, the songs of your life, the songs of your loved ones, the songs of your dreams...or simply the songs you've always wanted to hear Lea sing.

This year, for the first time ever, be a part of creating Lea Salonga's concert by sending in your requested songs through her website at www.LEAyoursongs.com

AmbientMedia invites you to a very special concert of Lea Salonga to be held on December 11 and 12, 2009 at the PICC Plenary Hall. In the concert, aptly titled Lea Salonga... Your Songs, Lea will sing your requests, performing under the direction of Bobby Garcia and musical direction by Gerard Salonga together with the 47-piece FILharmoniKA Orchestra. Joining her for the evening are comedy concert queen Ms. Ai-Ai de las Alas, premiere balladeer Richard Poon and the award-winning dance group Philippine All Stars.

Just last year, Lea celebrated the 30th anniversary of her career with a concert musical titled Lea...My Life...On Stage, also produced by AmbientMedia. It won the 2008 Aliw Awards for Best Director, Best Musical Director and Best Major Concert for Female. Now she is back to grace the Philippine stage once again with a concert dedicated to her fans.

AmbientMedia is a media and entertainment company whose aim is to bring the talents of both artists and entrepreneurs together to create event that leaves lasting memories of their audience. It recently produced the concert Quick Change, featuring Jon Santos and The Company.

Lea Salonga...Your Songs promises to be an evening of musical surprises that will thrill and delight audiences. Be a part of this special concert by sending in your requests now. After all, Lea simply wants to sing...your songs.

Log on to www.LEAyoursongs.com to send your request and to learn more details about the concert.


ADVERTISEMENT - CONTINUE READING BELOW