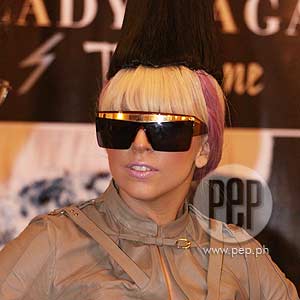 ---
During the Manila leg of her Fame Ball Asian tour, international artist Lady Gaga announced good news about her career—she and her partner Colby O'Donis in "Just Dance" were chosen as the Choice Music HookUp at the 11th Teen Choice Awards. The American singer-songwriter also received ninenominations in the 2009 MTV Video Music Awards (VMAs).


Earlier today, August 11, MCA Music also presenteda Gold Record award to Lady Gaga for her album, The Fame, which sold 12,500 units in thePhilippines.
Fame hastruly reached Lady Gaga, who is actually Joanne AngelinaGermanotta in real life. And she wantedto share this "intrinsic fame" to all her Filipino fans during her one-night concertheld earlier tonight, August 11, at the Araneta Coliseum.
The 23-year-old performer said at the media conference priorto her concert, "I love pop culture and I love my fans above anything, so I'mhappy to be here in Manila and spend some time with you guys."
ADVERTISEMENT - CONTINUE READING BELOW
Lady Gaga, who has been known for wearing daringoutfits, also told the local media, "Well, I'm not hiding anything andI'm certainly not branding myself. Ibelieve in the glamorous life and I love glamorous life. My album, The Fame, is about intrinsic fame—it's penniless and has noagenda. I want everyone in the world tofeel just like my friend and I in New York. We're famous without anyone tellingus we are."
When asked about what it would take to compete with her, Lady Gaga replied: "I don't think that anyone can compete with me, I don'tthink I can compete with anyone else. I'm very myself, I'm a very passionate, and devoted artist. And I'm just excited that everyone loves thealbum that I love so much."
After her The Fame concert tour, Lady Gaga is slated to doa collaboration project with fellow musician Kanye West. She related, "I'm planning my first everArena Tour with Coldy O'Donis and Kanye West and we're deciding that rightnow."
ADVERTISEMENT - CONTINUE READING BELOW
LOCAL ARTISTS EXCITEDTO SEE LADY GAGA. The pressconference was attended not only by the members of the media but also self-proclaimed celebrity fans of Lady Gaga.
Just before the event started, Anne Curtis caught the attention of almost everyone insidethe ballroom of EDSA Shangri-La Hotel with her "Lady Gaga-inspired" outfit. The star of the ABS-CBN show The Wedding wore a black sleeveless top, a white feathered skirt and a sparkling Jennifer Behr headband.
"I'm dressed to impress Lady Gaga!" said the MTV PhilippinesVJ, who planned to watch tonight's concert with fellow VJ Sib Sibulo.
"I'm expecting a fantastic and amazing show because she'sknown to be a total performer not only in singing but also in dancing. And I'm also looking forward to seeing heroutfits," said Anne. The actress opted to watch Lady Gaga's concert instead of going to the premiere night of And I Love You So, the latest film of her ex-boyfriend, Sam Milby.
ADVERTISEMENT - CONTINUE READING BELOW
When asked to list her favorite Lady Gaga songs, Anneimitated the American artist and sang, "I'm your biggest fan / I'll follow youuntil you love me!," from the song "Paparazzi." She also likes "Eh Eh (Nothing Else I CanSay)" and "Boys Boys Boys."
"Actually her whole album talaga," Anne added. "It's something I listen to every time I'mpreparing for the day."
PEP also spotted Iya Villania, who was there for one ofthe concert sponsors ASAP Live, Magic89.9 DJ and Showbiz Central host MoTwister, Events, Inc. host Tim Yap,as well as Maricel Laxa with her two children. Thepress conference was hosted by Magic 89.9's BoysNight Out DJs Sam YG, Slick Rick and Tony Toni.
Click
HERE
to watch the video of Lady Gaga's brief presscon at EDSA Shangri-La earlier today, August 11.