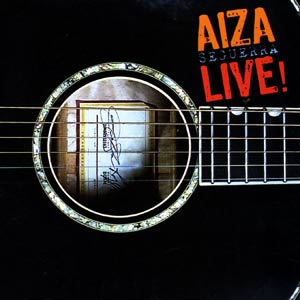 ---
Acoustic singer Aiza Seguerra is all set to conquer thePinoy music charts once again with the recent release of her new album Aiza:Live!
Far from being an award-winning child actress in the late80's to the 90's, Aiza made a major career turn when she burst into the showbizindustry in 2001 as an acoustic singer. The phenomenal single she recordedthen, titled "Pagdating ng Panahon," is still a part of radio playlists even upto now.
Her other hits include "Pakisabi na Lang," "Para LangSa'yo," "How Did You Know," "Akala Mo," and "Palagay Ko Mahal Kita."
Now an established acoustic singer, Aiza regularly performsin ABS-CBN's Sunday musical variety show ASAP '09, as a part of theSessionistas segment. As a freelancer, she also guests in several TV shows bothin GMA-7 and ABS-CBN.
NEW ALBUM. Thenew album Aiza: Live! is the acoustic singer's first foray into a liverecording session. Aiza effectively follows the live album route of her fellowSessionistas Nina, who released the successful Nina Live! in 2005, and MYMP, who released MYMP Live at the Music Museum a year later.
ADVERTISEMENT - CONTINUE READING BELOW
Aiza: Live! contains two CDs. The first one has 15acoustic tracks, and the second contains live footage of the recording session.
According to the singer, the new album was conceptualized byher current band.
"The songs are usually mga most requested songs sa gigsnamin kaya nabuo yung konsepto na yan. Kaya sila rin yung sinama kong bandakasi sila ng kasama ko lagi every gig," Aiza explained.
Aiza's band, tagged as the "Pogi Band," is composed of MikeVillegas (musical director/guitar), Ria Osorio (keyboards), Angelo Villegas(bass), Arnaldo Casinto (percussions), Jonathan Urbano (violin), and RonnieBadilla (saxophone/harmonica).
In the album launch held in Mugen Bar in Metrowalk, PasigCity last Monday, August 10, Aiza performed a sampler of the album to thedelight of the entertainment press. Some of the songs that she sang were theMichael Jackson hit "Man in the Mirror," rock band Queen's "Crazy Little ThingCalled Love," Mike Villegas' "Bilanggo," The Corrs' "Runaway," Kim Carnes'"Bette Davis Eyes," and the Erasrheads eternal hits "Magasin" and "Huling ElBimbo."
ADVERTISEMENT - CONTINUE READING BELOW
She also performed the album's carrier single "Anything ForYou," a Gloria Estefan original, and her own composition "Tanging Ikaw."
Aiza: Live!, produced by Star Records, is now available inmajor record bars nationwide.
TRACK LISTING.
Run Away
Kiss from a Rose
Ipagpatawad Mo
Everytime
Crazy Little Thing Called Love
Bette Davis Eyes
Paglisan
Bilanggo
Isipin Mo na Lang
Anything For You
Iris
Tanging Ikaw
Magasin
Man in the Mirror
Huling El Bimbo