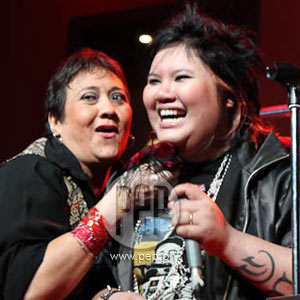 ---
A rare onstage appearance of alocal music legend was a dream come true for a young artist.
It came during Version 4.0's seventhweekly gig at the Hard Rock Café in Glorietta 3, Makati City last August12.
After dishing out such pop androck classics as Spiral Starecase's "More Today Than Yesterday" and LennyKravitz's "Are You Gonna Go My Way?" midway through their second set, Pinoy Dream Academy Season 1 scholarPanky Trinidad, one of the band's vocalists, introducedPinoy rock music icon Sampaguita as their special guest that night.
"This is what I've been waitingfor... to sing with one of my heroes in OPM," said Panky excitedly.
Sampaguita responded by saying, "I'm here because Panky is rock'n roll! Sayawan naman! We need some energy, I need it!" Thefemale artist then enjoined the crowd to dance along as they performed theformer's signature hits, the 1970s' "Bonggahan" and the 1989 classic "Nosi BaLasi."

PEP(Philippine Entertainment Portal) asked Panky how she felt about fuldilling herdream to perform with Sampaguita. "I'm overwhelmed, sobra, medyo hindi pa nagsi-sinkin sa akin. Of course, I'm very, very happy... I love Tita Sam!"
ADVERTISEMENT - CONTINUE READING BELOW
Just last week, in an exclusive interview with PEP, Panky shared her vision of collaboratingwith Sampaguita, if given the chance. "Gustung gusto ko siyang makatrabahotalaga... Lumaki kasi ako sa music ng mga rock legend na katulad niya," she saidin that interview.

As for Sampaguita, she says that she likes Panky's band, Version 4.0, very much."I'm very happy knowing that. I think good dreams begets good dreams, kumbagahappiness begets happiness. Kung happy si Panky, happy din ako. It's like angenergy namin ang nag-aandar sa saya namin. I like Panky because she's rock 'nroll! I like this band, Version 4.0, very much. This is my favorite band fornow."

That night, she was accompanied by her daughter Jacinta.
Aside from Panky, Version 4.0 iscomposed of Dex de Rosa (also a former WCOPA participant), Jem Marquez (memberof The Siblings, who won the grand prize in the now-defunct Fam Jam! talent search aired on QTV afew years ago, and also competed in WCOPA), and Jaylee Orpiano (Marianas Idol'05 champion). The band is managed by KB Entertainment Unlimited, Inc.
ADVERTISEMENT - CONTINUE READING BELOW
Asked by the press on herthoughts of reuniting with her contemporaries, like Mike Hanopol, Pepe Smith,Hebert Bartolome, Sampaguita related: "Sana, sana, we can do that sometime inthe near future, because I really miss them very much. Kaya lang, kailanganmedyo mawala muna kami sa eksena to give way to other people, kumbaga, turn byturn. Kung panahon namin, panahon naminulit. It will be a good reunion kungkami'y magkasama-sama ulit."
The 63-year-old Sampaguita, whodoes a lot of interior designing these days, admitted that she's mellowing downnow, but hopes she can write more songs to make people happy. "Alam mo namanako, masayahing tao. I want everyone to be happy. Ayoko yung mga sadness, kasimabigat na yung dinadala, tapos dadagdag pa ako."
Sampaguita also appealed to thelocal music industry to give importance to what she considers a minority kindof music in the Philippines. "Come on, let's give rock 'n roll a chance. Angdaming balladeers, mga bumibirit... Kami naman, para masaya at para sa mgakabataan na rin! I like people to have more happy songs. I think the Filipinoyouth today are like, they're so young, pero nagkakantahan na ng 'iniwanan mo',lalala...Depressing na, pero ang bagets-bagets pa."
ADVERTISEMENT - CONTINUE READING BELOW
For her, young Pinoy artists justneed a little more time to hone and showcase their musical talent. "Para hindimasyadong maging sabik 'yung mga bata. Give them a little more time. It's allproduction numbers kasi ngayon. Give chance to new groups."
As she thanked her fans and allrock and roll music aficionados for their support, Sampaguita encourageeveryone to "be happy, pray, rock 'n roll and then pray again." "Just be happy.Say no to drugs. Pray to God always for your safety. God bless and loveeveryone. Keep on rockin', with love and peace! Rock 'n roll, rock 'n roll,rock 'n roll!" she energetically ended.

After the resounding number with Sampaguita, Version 4.0 also did impromptujamming with World Championships of Performing Arts (WCOPA) 2009 Junior GrandChampion Performer of the World Rhap Salazar and Pinoy folk music icon FreddieAguilar's daughter, Maegan Aguilar, who were among those in the audience. Rhap,who, like Panky, is also co-managed by KB Entertainment and ABS-CBN's StarMagic, sang The Jackson 5/Mariah Carey classic "I'll Be There" and Beyoncé's"Listen", to the delight of both local and foreign spectators. Maegan owned thestage for some four minutes with her booming rendition of Guns N' Roses' "SweetChild O' Mine."
ADVERTISEMENT - CONTINUE READING BELOW

Among those spotted by PEP enjoying the good foodand great music were the KB Entertainment team, led by its owner, KitchieBenedicto and her daughter, KB Entertainment president Christine Rosales; Eat, Bulaga! and Who Wants To Be A Millionaire? Director Bert de Leon; TradersHotel's Pia Asistio and husband Andy Asistio; Lighting Entertainment Designs(LED), Inc.'s Paulo Paulino; WCOPA '09 acting champion Guy Lockwood; AlegraMusic's and one of Version 4.0's managers, Marie Gutierrez; radio personalityDJ Long Tall Howard; former Are You TheNext Big Star contender Alexa Ortega.