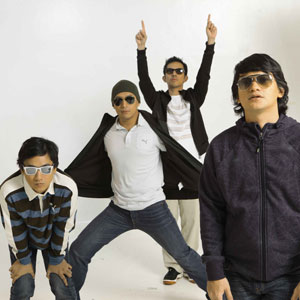 ---
Filipino rock bandPupil is Channel [V] Philippines' VIP (short for Very Important Pinoy)Artist of the Month for August 2009.

Theband composed of Ely Buendia asfrontman, Yan Yuzon on leadguitar, Dok Sergio on bass and WendellGarcia on drums will be showcased by Channel [V] Philippines in a series offeatures, interviews and performances throughout the month.

Pupilrecently celebrated its fourth anniversary as a band with the release of Wildlife: SpecialEdition, a follow through of the band's highly successful secondalbum Wildlife which was released in2007.

TheWildlife album was eventually chosenas the 2008 Albumof the Year at the NU Rock Awards where Pupil also received Artist of the Year, Producer ofthe Year, Drummer of the year and Best in Music Video awards.

Sincethe release of the band's second album, Pupil has enjoyed greater mainstreamsuccess. The band has also played in other countries such as Singapore, Qatar,and Dubai.

Pupil'sWildlife: Special Edition albumincludes hits like "Sala," "Monobloc," and "Teacher's Pet," as well as, theirlatest single "Different Worlds." The special edition album also contains a5-track acoustic set of the "Eye in the Big Sky" and 3 ofthe album's original demo. The album is currently available in CDs under the Sony Music label.
ADVERTISEMENT - CONTINUE READING BELOW