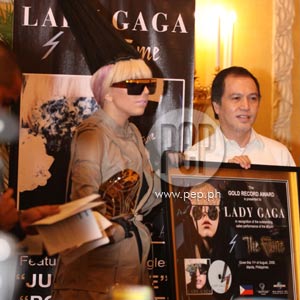 ---
Last August 11, avant-garde artist and fashion icon Lady Gaga performed live at the Araneta Coliseum for a one-night concert. Her arrival has been eagerly awaited by her Filipino fans ever since itwas announced that the lady behind the phenomenal album, The Fame, would be arriving in the country.

Lady Gaga's day started with a controversial entrance to Philippine shores that only she could pull off. She arrived wearing a silver sequined, red gemmed Vivienne Westwood bikini ensemble that the New Yorker herself put together.


Before the main event at the Big Dome, Lady Gaga was given a Gold Record award by her label MCA Music Inc. for the successful release of her album The Fame, which contains the hit singles "Just Dance," "Poker Face," "Love Game," and "Paparazzi". The album is also expected to reach platinum in a few weeks.

As a token of appreciation for the kind of music and culture that Lady Gaga continues to offer to the Filipino music audience, local retailer Maldita also handcrafted one-of-a-kind 5-inch heels with designs perfectly suited for Lady Gaga's fashion flair.

When asked what's next after her rapid climb to fame, Lady Gaga revealed that she will soon release a repackaged version of her album, to be called The Fame Monster. She will also be continuously touring the world and with the success of her songs and concert here in the Philippines, there's a great chance for her to stop by for a second time.

The night of the concert became a gathering of diverse personalities, from members of Manila's glitterati to mass spectators who wanted to catch a glimpse of the intriguing image and talent that Lady Gaga has been known for.

And she certainly exceeded expectations with each performance. From her outrageous costumes that included glitter, bubbles and police inspired paraphernalia to the extreme props that she utilized (including a vespa), the show was hailed as one of the best for the year. As expected, the sold-out concert was able to accommodate more than 13,000 spectators who screamed, danced and savored every beat that Lady Gaga provided during the show.

The debut album of Lady Gaga, The Fame, is available in all Odyssey, Astrovision, SM Record Bars and Music One stores. The original recordings and remixes of Lady Gaga are also available for your cell phone through downloads via WAP.
ADVERTISEMENT - CONTINUE READING BELOW
Click HERE to view photos of Lady Gaga in Manila.