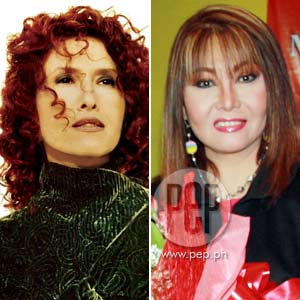 ---
After wowing audiences in LasVegas, Nevada, international singer Melissa Manchester and the Philippines'Sentimental Songstress, Imelda Papin, will give Filipino music lovers thechance to witness their stage presence and listen to their vocalprowess. They will topbill a two-day concert on September 18, 8 p.m, atthe Plenary Hall of the Philippine International Convention Center (PICC) onRoxas Blvd., and on September 20, also at 8 p.m. at the Pacific GrandBallroom, Waterfront Hotel & Casino, Lahug, Cebu.

Produced by Viva Concerts andEvents and International Entertainment, Inc., it was the idea of Viva Group of Companiesbig boss, Vic del Rosario, to bring the two international icons for aconcert in the Philippines. He is aware of the popularity of Melissa amongFilipino music lovers, as she has come up with chart bursting hits, such as "LookingThrough The Eyes of Love," the movie theme from Ice Castle; "Don't CryOut Loud," "Midnight Blue" and "If This is Love," among others.


Melissa is a Grammy award-winning singer-songwriter and actress who wasdiscovered by Bette Midler and Barry Manilow when she appeared in the Manhattanclub scene who took her on as one of the Harlettes in 1971. Her debut album,Home to Myself, was released in 1973 where she co-wrote many of its songs withCarole Bayer Sager.


Two years later she had her biggest hit, "You Should Hear How She TalksAbout You," which won a Grammy for Best Female Vocal Performance andpeaked at #5 on the Billboard charts. Her last top 10 entry on the AdultContemporary chart was a 1989 updating of Dionne Warwick's "Walk OnBy." The single was pulled from the album Tribute, which honoredsome of the singers that influenced her style. In 2008, she released a newsingle, "The Power of Ribbons," to digital retailers. Proceeds of thesingle are for the benefit of breast cancer research.
ADVERTISEMENT - CONTINUE READING BELOW

Imelda, on the other hand, isstill a name to reckon with as a singer in the Philippines. Of late, she hasbeen elicting praises in the U.S., especially with the release of her latest CDtitled Voice of Heart, recorded under 618 International Records, adivision of 618 International Entertainment, Inc. and distributed in the UnitesStates and Canada by the Warner Music Group.

She also has her own televisionshow, Imelda Papin in America, airing every second Saturday of themonth from 4:00-4:30 pm on LA 18. She also has a radio program called The Imelda PapinVoice of the Heart Radio Show which goes on the air every Sunday, 2pm to 4pm onKLAV 1230 AM Radio.


Ticket prices (PICC): Flatcenter, P5,250, Flat left/right side, P5,250, Level 2 x Center, left/right.P5,250, Level 3 center, P4,200, Level 3 Far Left/Right, P2,625, Balcony, P1,050and Gallery, P525.

Ticket prices (Cebu City) :Platinum, P3,000, Gold P2,000, Silver P 1,200 and Bronze, P500.
ADVERTISEMENT - CONTINUE READING BELOW
Tickets are available at all SM Ticketnet outlets (Tel. No. 911-5555) and through Ticketworld at Tel. No. 891-9999. For inquiries, please callViva Concerts and Events at Tel. Nos. 687-5853 loc. 620 and 627.