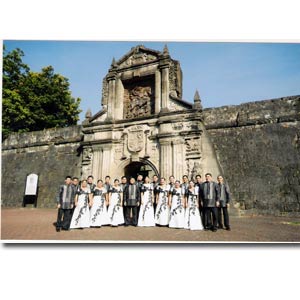 ---
Fresh from beingdesignated as UNESCO's Artist For Peace, the Philippine Madrigal Singers will hold a concert titled MadzAbout Love...Madz About Peace at the Tanghalang Nicanor Abelardo (CCPMain Theater) on August 28 and 29 at 8pm.


Also known as Madz, the group received the distinction "in recognition of their efforts to promotedialogue and understanding among people in Southeast Asia, their contributionto extend UNESCO's message of peace and tolerance, and their dedication to theideals and aims of the organization."(Click HERE to read related article.)


They will perform songs that made them bring honor to thecountry and affirmed their status as icons of Filipino music, as well as singlesfrom their upcoming album Love Continues under Sony Music. This willbe a collection of well-loved classics and contemporary love songs interpretedin the timeless Madrigal fashion. It will feature songs like "How Did YouKnow," "Love Of My Life," "Now That IHave You," "Very Special Love," "WhenYou Say Nothing At All," "Whenever, Wherever, Whatever" and "Your Love," amongothers.
ADVERTISEMENT - CONTINUE READING BELOW

Founded in 1963 byNational Artist for Music Andrea O. Veneracion, the Philippine Madrigal Singersis one of the most awarded choirs in Asia and in the world. The group hasconsistently won major prizes in the most prestigious international choralcompetitions for decades. Because of its impressive track record andmusical virtuosity, the Philippine Madrigal Singers is now regarded as one ofthe best choirs in the world.

The Madz was the first Filipino choir toperform at the Lincoln Center in the U.S. in 1969 and has won many major choralcompetitions around the world. From an initial membership of nine in 1963, thegroup has spawned at least 57 more choral groups founded and conducted by variousalumni, forming an umbrella organization called the Madz Et. Al. Its currentchoirmaster is Mark Anthony Carpio, under whose leadership the Madz continuesto grow by leaps and bounds.
Tickets to Madz About Love...Madz About Peace, the homecoming concert by the Philippine Madrigal Singers,are priced at P2000,P1500, P1000, P700, P500 and P300—available at all Ticket Worldoutlets (891-9999), at the CCPBox-office (832-1125) and at Sony Music office (636-3725).


Block ticket sellingcan also be arranged at discounted prices by calling Sony Music for more info. Studentscan avail of 50% discount upon presentation of school ID at the CCP Box-officeonly.



ADVERTISEMENT - CONTINUE READING BELOW