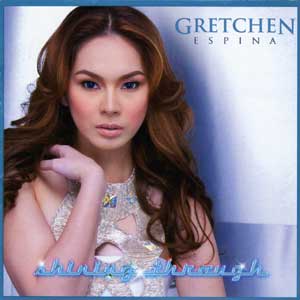 ---
At 21 years old, Gretchen Espina says not much has changed in her life—shestill needs to go through one year of college in U.P. Diliman to gain her degreein European Languages (major in German, minor in Tourism), and she still acts asthe dutiful daughter and good friend.
The only thing that's different now is that she carries the Pinoy Idoltitle, a distinction she had earned August last year through no easy feat.
The young singer said she had to go through long lines, numerous interviewsand auditions, tough singing battles, and nerve-wracking eliminations just toclinch the title.
Rewards are numerous. Fame exists now, she said, and people everwhere have started recognizing her. She also gets to work with top singers in the country, as aperformer in GMA-7's Sunday concert show SOP.
But what she's most proud of is her debut album Shining Through producedunder Sony Music, the record company that has the exclusive rights to producethe albums of Idol winners around the world.
ADVERTISEMENT - CONTINUE READING BELOW
The 12-track album contains the single "Kasalanan Nga Ba?" which iscurrently enjoying radio airplay.
Shining Through also includes remakes of OPM hit songs "One More Try," "SoSlow," and "Suntok sa Buwan." Original songs include "Pangako Sa 'Yo," "Di ManSabihin," and "To You," Gretchen's Pinoy Idol coronation song.
Four other songs were penned by international songwriters: "Shining Through"by Nina Ossoff and Tanya Leah; "I Promise" by Nina Ossoff, Steve Skinner andJimmy Santis; "I Know You By Heart" by Stephanie Salzman and Matt Senatore; and"Never in My Life" by Nina Ossoff, Kathy Sommer and Potter Carroll, Jr.
Shining Through, produced by Sony Music, is now available in majorrecord bars nationwide.
TRACK LISTING.
Shining Through
Kasalanan Nga Ba?
I Promise
Di Man Sabihin
Never In My Life
I Know You By Heart
One More Try
Pangako Sa 'Yo
To You
So Slow
Suntok sa Buwan
Kasalanan Nga Ba? (R&B Version)