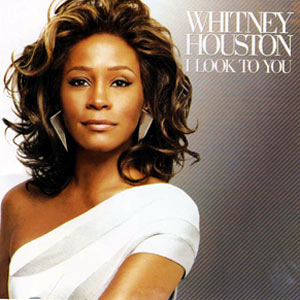 ---
Whitney Houston's new album will be released worldwide September 1, 2009 on Arista Records. Titled I Look To You, this 11-track album is Whitney's 7th studio record. It contains a star-studded lineup of producers and writers including Alicia Keys (for "Million Dollar Bill"), Swizz Beatz, R. Kelly, Akon (for "Like I Never Left"), Dianne Warren, David Foster, Stargate, Harvey Mason Jr., and Johnta Austin.


Since her 1985 self-titled debut album, she has built an illutrious career that has generated over 170 million combined worldwide sales of albums, singles and videos.


Cited by the Guiness Book of World Records as music's "most awarded female artist of all time," with an unsurpassed tally of 411 awards, inclusive of 6 Grammy Awards, 2 Emmy Awards, 23 American Music Awards and 16 Billboard Music Awards, Whitney remains a singular force in the music industry today.


In the 25 years since she recorded her history-making self-titled debut album, she has been cited as an influence by the likes of Mariah Carey, Christina Aguilera, Jennifer Hudson and Leona Lewis. Last year, Rolling Stone listed Whitney as one of the "100 Greatest Singers of All Time."

When longtime mentor Clive Davis, currently chief creative officer of Sony Music Entertainment Worldwide, first approached her about recording a studio album after Just Whitney (2002), Whitney didn't think she wanted to get back in the game.


"When Clive called me and said, 'Are you ready?' I said, "'Ready for what?' I didn't particularly acre for the way the industry was going or the music I was hearing. What I saw in the videos by most of the female artists--it was like, I'm just not doing that. I was raised in this business, I was raised in gospel singing and I wasn't about to change what people loved about me."

"My career and my life moved very fast," she continues. "At that time, I was just hitting my 40s and I basically just wanted to be a mother and a homebody."

Fortunately, though, Davis was persistent--and the result, almost three years later, is the new album I Look to You. The disc matches Whitney with some of the hottest writers and producers in pop and R&B for a set of songs full of her signature vocal power and passion. The album is built on a strong message of survival and perseverance, and reflects the hard-earned lessons of the high-profile challenges Whitney has encountered in recent years.



ADVERTISEMENT - CONTINUE READING BELOW
TRACK LISTING.

1. Million Dollar Bill
2. Nothin' But Love
3. Call You Tonight
4. I Look To You
5.Like I Never Left featuring Akon
6. A Song for You
7. I Didn't Know My Own Strength
8. Worth It
9. For the Lovers
10. I Got You
11. Salute