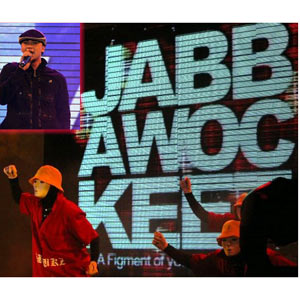 ---
Witness the heart-pumping action and bold moves ofJabbawockeez as they perform alongside DJ Rashida and Billy Crawford livecourtesy of the Ayala Malls this Sunday, September 6, 6 p.m. at Glorietta 5 Atrium.


Known for creativity, unique choreography, athleticism and intricatesynchronization, Jabbawockeez is poised to change the way we see dance. With amixture of street and theatrical elements, their performance displays a sweetfusion of raw emotions and graceful movements of the human body. Their whitemasks emphasize unison and synchronicity, a signature characteristic that addsa sense of mystique and wonder for the audience.

Since they entered MTV's America's Best Dance Crew back in2007, they instantly received positive recognition. Subsequently, they setforth to win the $100,000 grand prize on the first season of the show, earningthem an impressive resume that involves live performances alongside prominentmusicians, international tours, commercial campaigns and film. They recentlycampaigned for Gatorade and their "G" campaign spawning TV Ad's with MuhammadAli and Michael Jordan as well as viral videos throughout the internet.Furthermore, the group opened for the nationally televised NBA All-Star Gameand performed with Shaquille O'Neal making national headlines.

Together with Jabbawockeez, another musical sensation dropsby Manila to move the crowd with her heart-stopping beats--DJ Rashida. One ofthe most sought after female DJs in the world, she has been playing hersignature fusion of hip-hop, pop, electro, rock, funk, soul, reggae and housearound the globe in cities including London, Tokyo, Geneva, Antwerp, Sydney andParis. Rashida is currently starring on MTV's America's Best Dance Crew,rocking the audience with her soulful beats.