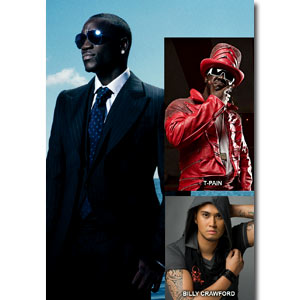 ---
Filipinos will soon be able to watch three of the world's biggest names in rap,hip-hop and R&B as they share one stage in the Philippines.
It's thrice the thrill, energy andexcitement; an unstoppable showdown of electrifying moves and grooves asunleashed by our very own Billy Crawford, platinum hip-hop artist T-Pain, and the prolific American-Senegalese singer/songwriter andrecord producer Akon.
For the very first time, this phenomenalmusical triumvirate takes Manila by storm via the much-awaited Freedom Tour '09, to be held on October 23, 2009 at the Araneta Coliseum.
Akon, whose proverbial rags-to-richesstory turned him into a full-blown multi-media phenomenon, is known for suchhits as "Right Now (Na Na Na)," "Beautiful," "So Paid," "Home Grown," "I WannaLove You," "Smack That," "Sorry, Blame It On Me," and "Don't Matter."
The five-time Grammy nominee's life storyhas also become one of the most inspirational sagas in recent memory, turninghis life around after a troubled youth by pursuing a career in music, notchingmillions in album sales since the released of his debut album titled Trouble.
Grammy winner T-Pain caught Akon'sattention when he came out with his reworked version of the latter's "LockedUp" in 2002. Seeing his potential, Akon promptly signed him up to hisnewly-formed Konvict Music label. Since then, T-Pain garnered acclaim for suchhits as "I'm Sprung," "Buy U A Drank," "Bartender," "Can't Believe It," "Chopped& Skrewed," "Freeze," "Low," "Got Money," "Good Life," "Kiss, Kiss" andmany more.
International R&B star Billy Crawfordbecame a global phenomenon when his first worldwide hit "Trackin'" topped thecharts in France, Holland, Belgium, Switzerland and Germany, and thereafterchurned out bestselling albums like Ride, Big City, It'sTime and the recently-released Groove.
For ticket inquiries, call TicketNet (Tel. No. 911-5555).Exclusive VIP tickets are also available at ALV Events International (633-98-25to 27).