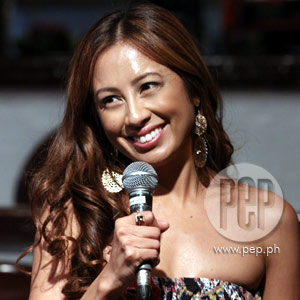 ---
Filipino-American thespian and Carnegie Hall-bound singer StephanieReese admits to serving a higher purpose in life. She says that there is more to life than singing and acting.

The US-based diva, who has earned the moniker "Standing OvationQueen" due to her stellar performances here and abroad, has chosen to donatethe proceeds from her November 7 concert in New York to GawadKalinga. Reese is the third Filipina to perform in thefamed concert venue after Asia's Songbird Regine Velasquez in 1991 andinternationally-acclaimed theater actress Lea Salonga in 2005.
"You can't just be a singer or an actress. You can't just be pretty andyoung. You have to a have a higher purpose for why you are here on this Earth,"says the multi-faceted artist in a press conference held yesterday,September 17. The singer, songwriter,stage actress and director has been helping the organization for four and ahalf years now.
"That was my introduction to the Philippines," she shares, narratinghow GK invited her to come to the Philippines—amove that allowed her to discover her roots. The singer admits she is indebted to GK, an organization advocating for a slum-free, squatter-free nation. According to the Los-Angeles based singer, that was her "firstexperience of any Third World poverty" and described the feeling as "overwhelming."
She continues, "I'm so proud and happy [with my involvement in GawadKalinga], because if I allowed myself to have a career based on my own desires,I don't think I can be happy. But knowing that I have ahigher purpose, that I want some kind of legacy, notjust in music, [but in helping charitable causes] through my art is somethingthat I feel so grateful for."
Her philanthropic endeavors started in the U.S., through a group called RiseN' Shine (a camp for children stricken with HIV and AIDS), where she taughtacting to the kids. From then onwards, Reese started volunteering in children'shospitals, retirement homes, and nursing homes.
ADVERTISEMENT - CONTINUE READING BELOW
Eventually, she took itupon herself to use her talent to hold benefit shows for various causes. Atpresent, the singer has staged benefit shows for a number of charitableinstitutions including international groups The American Red Cross and Make AWish Foundation, among others; and she has also helped out in relief efforts for thevictims of Hurricane Katrina.
Locally, she has offered her talents for Bantay Bata 163, and alsoaided in the funding of the Leyte Mudslide victims.
Because of her charitable works, the singer-philanthropist has beenawarded with certificates of gratitude from many public officials in the U.S., aswell as from a number of consulates and departments in the Philippines.
REALIZING THE DREAM. Reesewas able to clinch a spot in the royal Carnegie Hall because of a certainproducer, she recalls. After doing a show in a Philippine consulate in New YorkCity, the singer says that the producer expressed a desire to hold a showin Carnegie Hall, processed the necessary requirements, and soon after announcedto Reese that she is to become the first Filipino-American to hold a soloconcert in the concert stage. "I was thrilled," she exclaims.
To be able to hold a solo concert in Carnegie Hall is a dream cometrue, says Reese, who has performed in the said concert arena as a child in agirls' choir. She narrates that during her stay in a predominantly Caucasian choir,she was the only one with a different ethnicity.
"I remember being on that Carnegie Hall stage and just dream so much,"she recalls. She explains that as a Filipina living in the States, it was noeasy task to attain a dream like that because "you know you're different."
Now that her dream is finally realized, she tells the press, "I I hopethat we can send a message that anything is possible...that the dreams that youhave as a child are all possible. And I hope that this launches many [other Fil-Amartists] who can also make it there."
ADVERTISEMENT - CONTINUE READING BELOW
But before she graces the famed venue in New York, Reese will be restaging of her concert titled I Am Stephanie Reese, to be held atthe Music Museum on October 2.
"The Pre-Carnegie concert at the Music Museum will feature around 50percent of my act in New York. I'm performing a diverse selection of songs thatreflects my exposure to music from around the world. I'd be honored to sharethis evening with you," says the singer in a press release sent by STAGES, hermanagement outfit.
And now Filipinos wonder, what use of being a Filipina if StephanieReese isn't going to sing homegrown songs?
To this she replies, "I will be [singing] OPM in the concert," shereveals, stating that she learned all the older OPM songs from her "titos andtitas in Seattle." She also narrates that her pianist encouraged her to singOPM, which she will happily include in her concert and album.
MUSICAL ROOTS. The U.S.-basedtalent has shown a passion for singing, since she was around four years old,she recalls in an interview held after the press conference. According toReese, "neither of [her] parents are singers, but they do have a love of music."Her grandparents from her Filipino side loved music, as well, and "always had musicplaying in the house." The singer added, "My lola used to sing to me everyday."
Even though her parents didn't possess the kind of talent she has inher arsenal, Reese says that her sister exhibits the same degree of passion.
"My little sister is a songwriter and performer also," she answers."She does R&B and hiphop, and writes music for film and television includingGossip Girl, for an Eva Longoria movie, for a Gatorade commercial, for theSuperbowls... She helps me write sometimes," she says of her sister.
PEP (Philippine Entertainment Portal) asks Stephanie where she gets her inspiration, considering that she has honed several talentsincluding operatic singing, songwriting, acting and directing for stage.
ADVERTISEMENT - CONTINUE READING BELOW
She answers, "My love for performing, and [because] I wasn't good atanything else," she laughs, after recalling how friends used to tease her for venturing into other fields. "This has always been my passion since I was alittle kid, and I'm just so happy I can live this dream. And the more inventiveI become," she says, "I added more things to my list, like director or writer,whatever, because there's so many ways to be creative in the arts."
The singer—whose art form, according to STAGES President Audie Gemora,borders on cabaret a la Liza Minelli—idolizes another well-known singer, LeaSalonga, whose beginnings are also firmly rooted in theater. In previous years,Reese has played the role of Kim in a German production of Miss Saigon, thesame role that Lea Salonga portrayed in 1989.
PEP asks the singer about her feelings on being able to follow in heridol's footsteps, as a performer in Carnegie Hall. She exclaims, "Oh gosh! Ifeel like it's an honor and a blessing," she says, "[because] I used to sleepwith the Miss Saigon album under my pillow. And I had Miss Saigon t-shirts,everything, and just to do anything that's she's done, is really like an honor.She paved the way for all of this."
Reese also shares that she has sung with Martin Nievera and LaniMisalucha in the States, both of whom she likes as performers.
HOPING FOR A CAREER IN THE PHILIPPINES. Stephanie Reese has not only toured Asia andthe States, she has also performed alongside famous international singers PattiLabelle and Natalie Cole, and has a flourishing career in the States. Withthese feats in her growing list of international achievements, it is quite asurprise how the U.S.-based singer still plans to launch a career in thePhilippines, stating it is her "dream."
Members of the press were amazed by her comment, for whereas most localsingers can only dream of the magnitude of success she has achieved abroad, theinternational singer still wants to go back to the Philippines and startafresh.
ADVERTISEMENT - CONTINUE READING BELOW
"I'm very blessed with an international career, but when you're aFilipino-American, you're longing for your roots so much. I've found my rootshere, and I've found a higher purpose for my singing here in the Philippines,"she explains.
She adds that it is important for her to be known in the Philippinesbecause of the kind of work that she wants to do. "We're still a Third Worldnation," she says, citing her talent as one of the means by which she could tryto create a change. "Through my work as an artist, I want to bring light to thepoverty here and in the States. And I know the bigger my name becomes here inthe Philippines, I can create bigger changes."
Stephanie Reese will be staying in the Philippines until the 5th ofOctober, three days after her Philippine concert. She will then be flying to New York toprepare for her Carnegie Hall debut, which will be held on November 7, 2009.