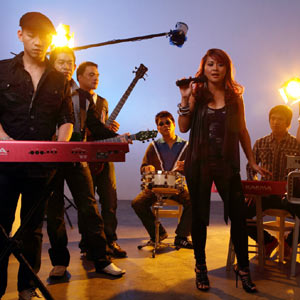 ---
Freestyle's existence was first felt during the late '90s, the time when local music wasalmost entirely about bands and singing groups. Since then, there was nostopping Freestyle. From the release of their very first single until today,the band has continuously come up with songs that have reached hitstatus and have become anthems of love and pain.
The band takespride in several multi-awarded studio and live albums, of which chart-toppingsingles were released. This simply proves Freestyle's absolute success in therecording scene. And alongside such success, the band never abandoned what theydo best: performing live, as attested by numerous local and internationalconcerts and sought after gigs.
At present,Freestyle is very much in the music circuit with a brand new album releasedunder Viva Records.
Aptlytitled Playlist, Freestyle goes back to the basics in this new studio albumfilled with romantic and easy-listening covers that people clamor forespecially during live gigs. Listeners are in for a genuine musical treat withthe band's own heartfelt rendition of fourteen popular love songs, reflecting apassionate flair that is clearly Freestyle's.
Songs in Playlist include I Will Survive,There's No Easy Way, Got To Be There, Suddenly, Take Me I'll Follow, I LiveFor Your Love, Don't Let Me Be Lonely Tonight, Sara, Love's Holiday, Til ILoved You, Sweet Baby, Easy, Truly, and the carrier single I Can't Find The WordsTo Say Goodbye.
Freestyleis fronted by a powerhouse trio who enter into a perfect harmony every timethey sing together: Jinky Vidal, Joshua Desiderio and Mike Luis. And becauseeach one also has his own strong and yet distinct vocals, exciting variety andversatility are echoed in the band's music.
Completingthe band are Tats Suzara on lead guitar, Rommel dela Cruz on bass guitar, NikkiCabardo on keyboard and Gerard Banzon on drums.
ADVERTISEMENT - CONTINUE READING BELOW
Thealbum is now available at all record bars nationwide courtesy of Viva Records.