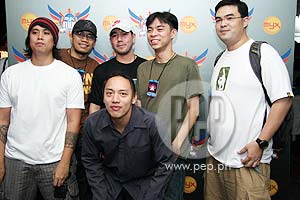 ---
Pop-rock novelty band Parokya ni Edgar willembark on a U.S. tour which will kickoff at Houston, Texas on October 2, 2009stretching to key cities located in the East and West Coast before wrappingthings up on November 14 at Guam.
The band composed of Chito Miranda, BuwiMeneses, Darius Semana, Gab Chee Kee, Din Din Moreno and Vinci Montaner rose tofame in the early '90s during the local alternative music explosion.
Still intact and considered to be one of the few enduring bands that emerged from the said era, Parokya ni Edgarpopularized the songs "Buloy," "Maniwala Ka Sana," "Don't Touch My Birdie,""Harana," "Halaga," "Inuman Na," "Mr. Suave," "The Yes Yes Show," "This Guy'sin Love with You, Pare," and "Papa Cologne," among others.
Here are the schedules along with thecorresponding cities included in Parokya ni Edgar's U.S. itinerary:
Friday, Oct. 2 - Houston, Texas
Saturday, Oct. 3 - Burien, Washington(Seattle)
Friday, Oct. 9 - Redwood City, CA (SanFrancisco)
Saturday, Oct. 10 - Los Angeles, CA
Sunday, Oct. 11 - Vancouver, BC
Saturday, Oct. 17 - Oxnard, CA
Sunday, Oct. 18 - Las Vegas, NV
Friday, Oct. 23 - San Diego, CA
Saturday, Oct. 24 - Cabazon, CA
Saturday, Nov. 14 - Guam