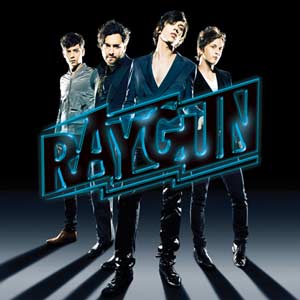 ---
They love Andy Warhol, Darwin, Jimmy Page andBeethoven. Their MySpace friends include Phil Spector, Houdini and Napoleon.Their frontman loves shaking his hips on Steinway pianos. They love playingtheremins, going crazy with synthesisers, turning their guitars up to 12 andsinging exuberant songs about love, drugs, and girls. They are Raygun: thebrand new British band who want to bring excitement, pop, and magic back to rock and roll.
The bandhas just released their self-titled album, which includes the carrier single"Just Because."
Moreabout their frontman? He's called Ray Gun. He's the man on "lead vox andsonic experimentation." Blue-eyed, slinky-limbed and razor-cheekboned, helooks and sounds like the velvet-voiced, finger-waggling progeny of apromiscuous session between Jagger, Bowie and Iggy pop. Then there's The Adj,the band's scarf-swaddled, beard-sporting songwriter, on "war guitar andaudio discovery." Add Ben Lyonsmyth on bass ("hip shaker and bottomend") and Sam Embery on drums ("pace maker and heartbreaker").Together, they summon up the razzle of New Wave and the dazzle of the ScissorSisters' disco, the filthiness of INXS, as well as the rock nous of a band longready to start a revolution.
Butwhere do they come from? The mystical lands in the suburbs of London that boreThe Stones and The Jam: those places where the pleasures of the big Smokeis tantalisingly close but far away to dream about, and inspire fantastic music.And why are they Raygun? Because of David Bowie who, like this band, sowed hismusical seeds in Brixton, who sang about ray guns on his song, "MoonageDaydream," from Ziggy Stardust and the Spiders From Mars. Raygun's musicalblueprint mixes pop, art and melodies that move your heart, head and heels.
CatchRaygun as they blast through Manila for their Philippine promo tour on October17-20.

Raygun is now out in CDs under Sony Music.