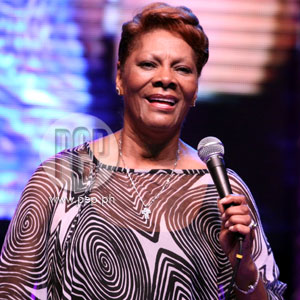 ---
The comeback album of American singerWhitney Houston titled, I Look To You,released last August drew mixed reaction from critics and casual listenersalike. While some people praised the record and its content, some quarters whowere expecting to hear Houston's trademark sound expressed disappointment citingthe alleged dip in Whitney's range as a letdown.
But for Whitney's cousin, legendaryAmerican singer Dionne Warwick, Houston's courageous return to the recordingscene and live circuit after years of battling personal demons was admirableenough worthy of a standing ovation.
"I feel elated for her!" Warwick toldthe entertainment press last October 1 at Crowne Plaza Hotel. Dionne met thelocal press a day before her scheduled one-night concert at the AranetaColiseum in Cubao, Quezon City titled A MemorableEvening with Dionne.
Dionne contradicted the lukewarm responseposted by critics on Houston's latest record saying, "I love it. The characterof the record, that's her and I think it's what people are waiting for andexpecting."
Whitney's personal struggle to overcomedrug addiction and her turbulent marriage to R&B singer Bobby Brown grabbedtabloid headlines all over the world for several years. Houston's court battleover divorce proceedings from Brown likewise gained public attention until thecourt granted Whitney full custody of their children and leaving her formerhusband with no spousal support.
It was in March 2007 when theannouncement came out that Whitney will once again enter the recording studioupon the behest Arista Records main man Clive Davis to record a comeback albumfollowing a series of greatest hits offering.
Looking back at Whitney's struggles andher triumphant return, Dionne said with a sigh of relief: "Like everyone else Isaid a lot of prayers for her and a lot of love and she received it very, verywell. Thank God she's doing exceptionally well... She's doing fine."