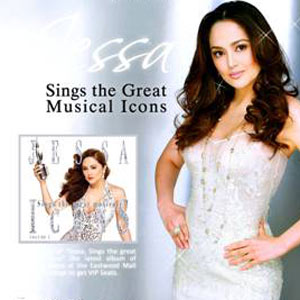 ---
The Philippines has been devastated by a treacherous typhoon that left many homes destructed and families helpless. Music transcends and lifts the spirit, and for this reason, Jessa Zaragoza is holding a special show at the Eastwood Open Park. Orginally set on September 26, Jessa Zaragoza's special show at the Eastwood Open Park is moved to this Saturday, October 10, at 7 pm. Part of the proceeds will be donated to the victims of typhoon Ondoy.

Jessa will be sharing the gift of music by showcasing tracks from her latest album Jessa Sings The Great Musical Icons Volume I. Purchase a copy of the album at the Eastwood Concierge to get VIP seats and have your album signed by the phenomenal diva herself after the show.

This latest offering is extra special because it is her first solo album in 6 years. In this Double Disc Album, Jessa pays homage to some of the world's most influential and iconic artists in the music industry. Jessa gives a soulful rendition to timeless classics with her highly-identifiable and powerful vocals at the center of each track. Experience a phenomenal musical treat as Jessa gives a different twist to The Police's "Every Breath You Take," a stirring rendition of Anne Murray's ballad "Broken Hearted Me," and a lot more. Jessa's new offering also has a full minus one version of the whole album, plus a booklet of the lyrics to all the songs.


Jessa Sings The Great Musical Icons Volume I is a joint production of Matua Agupa Corporation and ALV Music Company. The tracks from the album are also available for mobile download via Globe and Smart WAP Sites. The 12-track album is now available in major record bars nationwide and is distributed by MCA Music Inc.