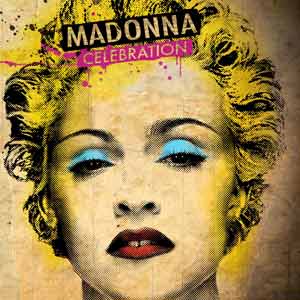 ---
Madonna has given her fans yet another opportunity to "celebrate" her musical achievements. Warner Bros. Records has released the final track listing of Celebration: The Ultimate Greatest Hits Compilation.

The songs were selected by Madonna and her fans. Original tapes of the singer were dug from archives and remastered especially for this two-CD set.

Celebration: The Ultimate Greatest Hits Compilation will cover the expanse of the Material Girl's extraordinary career of hits including "Everybody," "Express Yourself," "Vogue" and "4 Minutes."

The Greatest Hits Compilation features 34 remastered tracks while The Video Compilation features 47 digitally remastered videos, including 18 videos never before available on DVD.

The Greatest Hits Collection will also offer two new songs that were recorded in New York City. The first single, also titled, "Celebration," co-produced by Madonna and Paul Oakenfold, was released on August 3, 2009. A video for the single, which will be included on the "Celebration" DVD was filmed in Milan, Italy and was directed by long time Madonna collaborator Jonas ("Ray of Light") Akerlund. Another new track called "Revolver" featuring Lil Wayne is also included on the Celebration CD.

Madonna's video for her new single "Celebration," features her daughter Lourdes in a dancing role. The 12-year-old shows off some break-dance moves towards the end of the four-minute video and appears to have inherited her mother's talents.

In other scenes, Madonna kisses her lover Jesus Luz, 22, the male model with whom she recently spent her birthday celebration in Italy.

Madonna clearly continues to rule the dance floor with her latest single "Celebration." In Billboard's September 26th issue, Our Lady of The Dance floor Madonna will have her 40th number 1 Single on Billboard's Hot Dance Club Play Chart—the most of any artist in the history of the Billboard Club Singles Chart. On the international front so far, the "Celebration" single is already #1 in Italy and Holland, #2 in Japan and is Top 5 airplay in every other major market. It's also reportedly climbing the radio and video charts here in the Philippines.

Buyers of the CD won't miss it on the record stands as the eye-catching pop art features Madonna's ultimate '80s look on the cover of Celebration CD and DVD.



ADVERTISEMENT - CONTINUE READING BELOW
MadonnaCelebration CD Track Listing:
CD 1:
01) Hung Up
02) Music
03) Vogue
04) 4 Minutes
05) Holiday
06) Everybody
07) Like A Virgin
08) Into The Groove
09) Like A Prayer
10) Ray Of Light
11) Sorry
12) Express Yourself
13) Open Your Heart
14) Borderline
15) Secret
16) Erotica
17) Justify My Love
18) Revolver (new track)
CD 2:
01) Dress You Up
02) Material Girl
03) La Isla Bonita
04) Papa Don't Preach
05) Lucky Star
06) Burning Up
07) Crazy For You
08) Who's That Girl
09) Frozen
10) Miles Away
11) Take A Bow
12) Live To Tell
13) Beautiful Stranger
14) Hollywood
15) Die Another Day
16) Don't Tell Me
17) Cherish
18) Celebration (new track)
MadonnaCelebration DVD Track Listing:
01) Burning Up
02) Lucky Star
03) Borderline
04) Like AVirgin
05) MaterialGirl
06) Crazy For You
07) Into The Groove
08) Live ToTell
09) Papa Don'tPreach
10) True Blue
11) Open YourHeart
12) La IslaBonita
13) Who's ThatGirl
14) Like A Prayer
15) ExpressYourself
16) Cherish
17) Vogue
18) Justify MyLove
19) Erotica
20) Deeper andDeeper
21) Rain
22) I'llRemember
23) Secret
24) Take A Bow
25) BedtimeStory
26) HumanNature
27) I Want You
28) You'll See
29) Frozen
30) Ray OfLight
31) The PowerOf Good-Bye
32) BeautifulStranger
33) AmericanPie
34) Music
35) Don't TellMe
36) What ItFeels Like For A Girl
37) Die AnotherDay
38) Hollywood
39) LoveProfusion
40) Hung Up
41) Sorry
42) GetTogether
43) Jump
44) 4 Minutes
45) Give It 2Me
46) Miles Away
47) Celebration
ADVERTISEMENT - CONTINUE READING BELOW