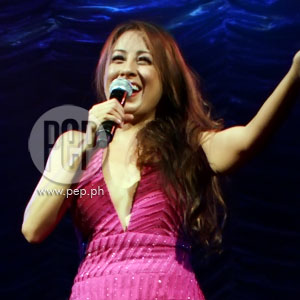 ---
Filipino-Americansinger Stephanie Reese successfully staged her pre-Carnegie Hall concert titledI Am Stephanie Reese last Monday,October 12, at the Music Museum. By November of this year, the singer-thespianwill be the third Filipina and the first-ever Filipino-American to perform atthe famed concert hall.
Standingon a sophisticated stage and accompanied by seasoned musicians, Stephanie saidthe concert was produced to chronicle her musical journey—from her humblebeginnings in the United States to her life-changing experience as an advocateof Gawad Kalinga in the Philippines.
PROUD GRANDDAUGHTER. She opened the showwith a medley of children's songs that her Filipino grandmother used to sing to herback in the day. "My lola's music made me dream," said Stephanie, who was wearing a black dress, to her audience. "Her songs planted the seeds ofmelodies inside my heart, until they blossomed into my love of singing andperforming."
Stephanieremembered how she, as a young girl, used to consider their living room as her"little makeshift stage" and how she used to perform concerts for her family inSeattle. "I would dream of becoming a famous singer someday, seeing my name inlights and performing on stages around the world," she recalled happily.
ADVERTISEMENT - CONTINUE READING BELOW
"By thatlittle stage, so many more dreams were born," she continued. "And my amazingparents financed my dreams with voice lessons, acting classes, and danceclasses, and eventually, conservatory training."
THE THESPIAN. Stephanie says that "everybody who isanybody in the Filipino community knows somebody or claims to know somebody whois Miss Saigon." Because of this, she said, she had also once dreamed to singon stage playing the title role in the acclaimed musical.
"Being Miss Saigon showed me a deeper reasonwhy we as Filipinos are so drawn to the show," said the singer, who had playedKim in the German production of MissSaigon.
"You seein my blood, and the blood of all of us Filipinos, is this story of theself-sacrificing and the troubles I would tell in Miss Saigon every night, thestruggle to give your child a chance at a better life, a life that's betterthan their own. A struggle that from my own family began," started Stephanie.
ADVERTISEMENT - CONTINUE READING BELOW
She explained how her grandparents made a living out of a sari-sari store that wasfinanced by going door-to-door and selling mongo beans. After a sentimentalaccount of her family's beginnings, she sang the song, which she said makes herremember her grandmother: "I'd Give My Life For You" from the same musical.
Aside fromplaying Kim in the German production of MissSaigon, Stephanie also toured the world's stages, playing several roles inkey musicals, such as Esmeralda from TheHunchback of Notre Dame in the U.S. and Princess Tuptim from The King and I in London.
THE SINGER. The U.S.-based performer had alwayswanted to be a solo singer, apart from singing in musicals where she made aname for herself. After her rendition of "As If We Never Said Goodbye" from Sunset Boulevard, she told the audience,"I didn't know what to do with myself. I've been in the theater for so manyyears. I knew that I wanted to be a solo singer, but all I knew were Broadwaysongs. So I put up my first concert in Seattle, Washington, my hometown,singing songs from my favorite Broadway shows."
ADVERTISEMENT - CONTINUE READING BELOW
She thenrendered a medley including LesMiserables' "I Dreamed A Dream," "I Have Dreamed" from King and I, and Cabaret's"Maybe This Time."
Wearing aturquoise robe, Stephanie sang a couple of songs from The Phantom of the Opera—a song of the same title, and a duet withstage actor Audie Gemora titled "All I Ask of You." After their duet, theveteran thespian and STAGES president also rendered a solo performance of"Shall We Dance?" from King and Iwhile Stephanie went backstage for a costume change.
Stephanie re-emerged wearing a red dress with a ruffled train. Employing hertrademark high notes, she rendered several foreign songs, along with some ofher compositions, such as "Chaka Laka Boom Boom" and "Please Diyos."
Stephaniesaid that as a performer, she looked up to music legend Shirley Bassey. She performed a couple of Bassey's songs, "I Who Have Nothing" and "This Is MyLife," followed by a medley that she dedicated to her parents in the States,and to her foster parent in the Philippines.
ADVERTISEMENT - CONTINUE READING BELOW
For herlast act as Stephanie Reese the Singer, she ended with an operatic performance,hitting one high note after another. She mentioned that the same song earnedfor her the title "Standing Ovation Queen" and "The Little Girl with the BigVoice" in the U.S.
GIRL IN LOVE. Like any other girl, the talentedsinger told the audience that she had also once fallen in love. While in theU.S., she found herself in a relationship with an American named John, wholater died in a tragic accident. In her Manila concert, Stephanie recalled howshe had been heartbroken and depressed after her boyfriend died, and in tearssang "He Touched Me" by Barbra Streisand, followed by "Somewhere in Time" fromthe movie of the same title.
After herboyfriend passed away, Stephanie said she had lost all hope and decided to stopsinging. "I was Stephanie Reese, a lost soul. I didn't know what to do withmyself," she recalled. "I didn't want to be Stephanie Reese the singer anymore.I didn't want to sing, I didn't want to do anything. God had taken away John.He had betrayed me. And my heart went numb."
ADVERTISEMENT - CONTINUE READING BELOW
She stayed that way until Gawad Kalinga, a local institutionthat helps build houses for the less fortunate, invited her to the Philippinesto sing. From then onward, Stephanie found a new reason tosing.
"And so itis to you, that I am forever grateful," she told the Filipino audience. She sang another medley—a Filipino collection including "Dahil Sa 'Yo,"Bicol's "Sarung Banggi" and the Visayan love song, "Usahay." After this,Stephanie joined her male vocal ensemble in singing "Ikaw," wearing a blackdress and an embroidered panuelo, aFilipino-type wrap.
Stephanie also rendered another of her compositions titled "Your Voice," sayingshe values the friendships that she has made in the country.
THE FILIPINA. The half-Filipina, half-American singer mentioned in her concert how everyone in the States wonders why out ofall the cultures in her bloodline, she chose to celebrate her Filipinoheritage.
"Thesepast few weeks, when disasters hit the Philippines," she said, "my heart wasvery moved. I saw that God had put forth a test. He showed us that both richand poor, He does not discriminate. The rains fell. And I think the test was,would we as Filipinos discriminate against our neighbors as well? Would we helppeople outside of our families and neighborhoods? And the Philippines passedwith flying colors.
ADVERTISEMENT - CONTINUE READING BELOW
"Everybodyextended themselves outside their little neighborhood, and their little clan,"she continued. "It made me so proud to be Filipino. It is why it is Filipinothat I chose to be," she said with conviction, prompting deafening applausefrom the audience.
She endedher Manila concert and pre-Carnegie Hall debut with her renditions of "BayanKo" and "Ako Ay Pilipino," with the hope that audiences would accept her as atrue Filipina.
ENCORE. Her encore allowed Stephanie to give her kababayansa taste of her Carnegie Hall debut. She performed a medley that included"You Must Love Me" and "Don't Cry For Me, Argentina" from themusical Evita as well as "Impossible Dream"and "New York, New York" by Frank Sinatra.
As a little Filipina girl who used to perform in apredominantly Caucasian girl's choir in Carnegie Hall during her younger years,Stephanie said she had always wanted to "represent [her] people and be asoloist" in the famed concert hall.
ADVERTISEMENT - CONTINUE READING BELOW
All proceeds of her Carnegie Hall performance that will be staged thisNovember will go to typhoon victims of Ondoy and to Gawad Kalinga, of which shehas been an advocate for five years.