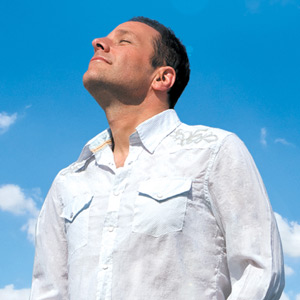 ---
Grammy-nominated recording artist Jim Brickman never stops working,even after he takes his final bow at a concert. After 15 successfulyears in the music business, Jim's career continues to take on newdirections and grow.

After filming his spectacular new PBS concert, Beautiful World, Jim will embark on a 75-city Beautiful World concerttour: 50 cities in Fall 2009, and 25 in Spring 2010.


Beautiful World is inspired by Jim's unique gift of bridging borders and culturaldivides through his music. This intimateshow celebrates the way music connects and unites us. Shot in highdefinition, it features breathtaking views of the falls.


Sharing thestage with Jim are world-renowned guest stars including Latin superstarJon Secada, America Idol Season 6 finalist Melinda Doolittle, formermember of Celtic Woman Orla Fallon, pop pianist Arthur Hanlon, Celticviolinist David Klinkenberg, Canadian singing sensation Mark Masri,plus fan favorites Anne Cochran and Tracy Silverman.

A native of Cleveland, Jim began playing piano at the age of five. He studied music at the prestigious Cleveland Institute of Music. Known asAmerica's Romantic Piano Sensation, he revolutionized the sound of adult contemporary music with his pop-style solo piano. Over the courseof his remarkable career, Jim was named SESAC "Songwriter of the Year,"and earned a Canadian Country Music Award for "Best Vocal/ InstrumentalCollaboration," and Dove Award presented by the Gospel Music Associatefor "The Gift."

Jim established a reputation for collaborations with gifted vocaltalents like Martina McBride, Michael W. Smith, Michael Bolton, LadyAntebellum, Carly Simon, Donny Osmond and others. He is the mostcharted male Adult Contemporary Artist with hits like "Valentine," "TheGift," "Destiny," "By Heart," "The Love I Found In You," "Never Alone,""Love of My Life" and "Peace."
ADVERTISEMENT - CONTINUE READING BELOW
Jim is equally successful in otherendeavors, including a weekly syndicated radio show, Your Weekend withJim Brickman, and two best-selling books of essays, Simple Things andLove Notes: 101 Lessons from the Heart.
Jim performed at ABC's Gala forthe President at Ford's Theatre, was music correspondent for NBC'sToday, and hosted the A&E special Winter Solstice on Ice.

Jim's new CD Beautiful World features all-new music by Jim Brickmanincluding some heard on the PBS concert special, plus additional newsolo piano pieces.


Featured on the CD is the brand new song "BeautifulWorld (We're All Here)" sung by Adam Crossley. You'll also hear theconcert finale "What The World Needs Now Is Love" performed by JimBrickman, Jon Secada, Melinda Doolittle, Orla Fallon, Mark Masri andAnne Cochran) and "What A Wonderful World" sung by Jon Secada. ThePhilippine edition includes "Never Far Away" featuring Asia's RomanticBalladeer Christian Bautista on vocals.

Catch Jim Brickman Live In Eastwood Mall Open Park on October 28(Wednesday), 8 p.m. For inquiries, please call Eastwood Mall Concierge at709-9888 or 709-0888.


PEP PROMO. A lucky PEPster can win 2 VIP tickets to Jim Brickman's one-night-only concert. Deadline of submission of entries is on October 25. CLICK HERE to join the online promo.


BEAUTIFUL WORLD Track listing.

1. Beautiful World (We're All Here) featuring Adam Crossley
2. What The World Needs Now Is Love (Live) featuring Jon Secada,Melinda Doolittle, Orla Fallon, Mark Masri and Anne Cochran
3. What A Wonderful World featuring Jon Secada
4. Simple Gifts
5. Rivers Edge
6. Carnivale
7. Countryside
8. Rainbow Sky
9. Harvest
10. Free To Fly
11. Wedding Bells
12. Romance On The Siene
13. Fallen Snow
14. In The Mountain Air
15. Lotus Blossom
16. On My Way
17. Noche Pacifica
18. Island Paradise
19. My Land featuring Orla Fallon
20. Oceans Apart
21. Never Far Away featuring Christian Bautista


ADVERTISEMENT - CONTINUE READING BELOW