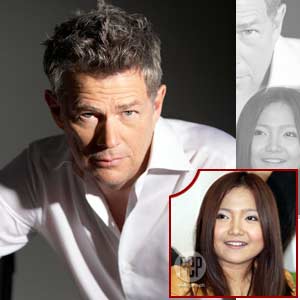 ---
REDWOOD CITY, CA—Garnering 15 Grammys (and an unprecedented 44 nominations), seven Canadian Juno Awards, an Emmy, three Oscar nominations and countless monster recording hits with the world's greatest singers in a career spanning 40 years, "Hit Man" David Foster know talent when he sees it.

In this interview, the American producer stresses that Charice is "going to be the next national treasure for the Philippines." He also revealed that he almost got the chance to work with Lea Salonga, whom he described as "incredible."


Continuing the success of David Foster and Friends last May at the Mandalay Bay in Las Vegas, TC Entertainment and ABS-CBN International's The Filipino Channel (TFC) have signed a contract to promote 2009 Hit Man David Foster and Friends in its North American tour. It will be held on the following dates: Newark, NJ (Oct 24); Boston, MA (Oct 25); Atlanta, GA (Oct 28); Tampa, FL (Oct 30); Hollywood, FL (Nov 1); Los Angeles, CA (Nov 5); San Jose, CA (Nov 6); and Vancouver, BC (Nov 8).


In Foster's recording studio in Los Angeles, TFC Production Manager John-D Lazatin sat down for an exclusive one-on-one interview with Foster. Here are some gems from the Hit Man:


TFC: Is there a difference between David Foster the composer/artist and the producer?

Foster: When I go to the doctor's office and they ask for occupation, I still put musician. I've been playing piano since I was 5. All the time, all the things that's been happening in my life since I started playing piano have always been a result of my being a musician and that's how I think of myself.

TFC: I read your book, Hitman: Forty Years Making Music, Topping the Charts, and Winning Grammys. Lesson number one is "Always go with what you love." Is that always true?

Foster: The phenomenon that exists in this country and probably the whole world is that when a child turns 17, he or she all of a sudden is forced to make the biggest decision in his or her life: what am I gonna train for as a living for the rest of my life? So at 17, they go, "Hmm, do I wanna try medical school, do I wanna be a lawyer?" But you know, not everybody has a passion at 17. So, most people end up doing what they're taught to do, not what they love to do. I was one of the fortunate ones that got to do what I love doing. By age 10, I knew what I love to do and I knew that was how I'm gonna make my living. So, my recommendation is always try to go for what you love, not what you're taught to do.

TFC: If you were not a musician, what would you be?

Foster: I've always joked that if I were not a musician, if I had to be a shoe salesman, I'd like to be the best shoe salesman on the planet. I love airplanes. I'm a pilot. I would have loved to be a professional pilot. Had I had more talent in the athletic world, I would have loved to be a hockey player because I played hockey when I was a kid and I was pretty good but not good enough to be a pro. There are other avenues, but the main thing is the discipline that I have as a musician and as a songwriter-producer. That discipline that I learned at a really early age I would have applied to anything. Maybe my gift wasn't even music; maybe my gift was that I'm disciplined.

TFC: What's the secret in staying in this industry? How can you stay for 40 years in this business?

Foster: I don't know if there's a secret in staying in any industry. The music industry is very youth driven. As you may have read in my book, I credit the man named Ronnie Hawkins for teaching me that you need to sometimes retreat and attack in another direction. The 70s for me was great—I was a musician, everybody wanted me. I became a producer in the 80s and it went great. Then at the end of the 80s, my career just kinda tanked and all of a sudden I wasn't making hits anymore for a couple of years. You have two choices at that point: you can keep banging your head against the wall and pushing forward in that same direction, or you can do this (hand motions towards another direction) and I did that—I did Natalie Cole's Unforgettable album which ended up being a huge hit. That thrust me into the 90s where I had great run with Celine, Toni Braxton, Whitney Houston, etc. At the end of the 90s, that same thing happened: I came up against the wall. All of a sudden, my sound wasn't on the radio anymore so I went around and did [Andrea] Bocelli, [Michael] Bublé and [Josh] Groban.


TFC: What did you know about Filipino artists before you met Charice?

Foster: Before I met Charice, I knew that the Philippines and the Filipinos were great lovers of music and especially, it seems great lovers of my particular kind of music. The first time I heard of a Filipino artist that I loved was Lea Salonga. She sang so beautifully in Mulan. And of course she was cast in Miss Saigon. She was incredible and we actually almost worked together. And then this new kid from Journey [Arnel Pineda] got everyone's attention. But I've always believed, at least for the last 5 to 6 years, from my trips to Asia, that the next huge big star will be Asian. I believe that Charice is the one.


It just makes sense. There's a billion-and-a-half Asians. Twenty or thirty years ago with the Japanese, they used to copy American music. But in the last 10 years or so, the Asians have really found their own sound. It's just not copying anymore. They have such rich heritage to draw from, thousands of years of music to draw from. And I think it's all coming out. You see that in Charice, she's so well-rounded. I believe she's the next big star.


TFC: After Charice, are you watching out for other performers from the Philippines?

Foster: I've yet to go to the Philippines but I'm excited to go there. I want to know more about this country and this culture that has embraced American music for so many years. It's really no different from what England did in the beginning. England in the beginning copied American music. The Beatles' favorite artists were Chuck Berry and Bo Diddley. They took it and made it their own and I believe that's what's happening to the Filipino community now, too. They love the American culture and the American music scene. But they're now taking it and making it their own. So, I'm sure if you drill down the Philippines, you're gonna find a lot more talent. But I don't look for talent though, talent finds me.

TFC: What's your idea of David Foster and Filipino Friends?

Foster: What would be exciting is for one is to have some of the local artists perform with me and sing my songs. Because the David Foster and Friends traditionally, at least with the last two or three concerts, and the tour I'm about to do in 12 cities in America is my music so that is sort of what it's all about. So, having Filipino artists, young or old, singing my music will be a lot of fun plus I think we should have a talent search and find somebody—a complete unknown—that could win a spot to open the show.

TFC: How long have you known about The Filipino Channel?

Foster: I knew about The Filipino Channel. My friends Michael and Millie (Gurfinkel) have told me first about it and it's spectacular what you guys do. It's amazing—the coverage has been incredible. I'd like to say to all the Filipino communities across America that I am going on tour in October and November and, of course, I will be bringing Charice. I would love for all of you to come out and see the show. Come and support me which would be great, but most importantly, come and support Charice because I believe that Charice is going to be the next national treasure for the Philippines.
ADVERTISEMENT - CONTINUE READING BELOW


Fans can watch DavidFoster and Friends on the following dates and venues:


October 24 Prudential Center Newark, New Jersey

October 25 Agganis Arena Boston, Massachusetts

October 28 Fox Theatre Atlanta, Georgia

October 30 Blue Line Theatre @ St. Pete Times Forum Tampa, Florida

November 1 Hard Rock Live Hollywood, Florida

November 5 Gibson Ampitheatre at Universal City Walk Los Angeles, California

November 6 HP Pavilion San Jose, California

November 8 General Motors Place Vancouver, Canada


Read more about Charice in the November issue of YES! magazine, which will be available soon.