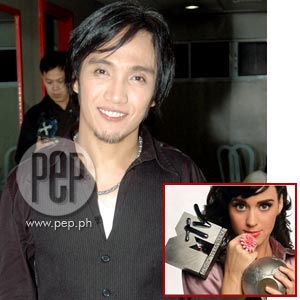 ---
Arnel Pineda wowed the guests of Cinemanila during the awarding ceremony held last Friday, October 23. The Pinoy singer of the American rock band Journey performed songs such as "It's My Life," "We are the Champion," and "Sweet Child of Mine."

After his energetic song numbers, PEP (Philippine Entertainment Portal) was able to talk to Arnel regarding his upcoming project. He is slated to perform with Katy Perry during MTV's fund-raising concert that will take place on November 14 at the Mall of Asia concert grounds.

"I'm promoting my concert with Katy Perry on November 14 kasi it's for a good cause. It's for the victims of Ondoy and Pepeng and I think Nicole Scherzinger of Pussycat Dolls and [Journey] guitar player Neal Schon will be with me. Other big singers and musicians will be there to support this noble cause so please come at the Mall of Asia," said Arnel.
American pop singer Katy Perry rose to fame in 2007 with her Internet hit "Ur So Gay" as well as her popular singles "I Kissed a Girl" and "Hot N Cold."
How does Arnel feel now that he is back in the Philippines?

"Of course, it's good that I could get my little break from touring coz we've been touring for three years. It's a good time for me and my family."
How has touring all over the world changed him as a person?

"Not much really. I'm still the old Arnel all my old friends know. Mas high level lang yung job na hinahawakan ko ngayon by that it's a good pressure. I'm still the same simple guy they know."
The net proceeds of Katy Perry, Live in Manila will be awarded to an agency that has been actively and efficiently deploying donations and aid to the typhoon victims. The name of agency will be announced at a later date.
ADVERTISEMENT - CONTINUE READING BELOW
The concert will also be an avenue for people to drop off their donations. Booths will be set up for this specific purpose. Donations in kind such as food, water, clothes, blankets and medicines are welcome. Concertgoers are highly encouraged to bring at least one item to donate.

This concert was originally scheduled for October 3 but the organizers decided to postpone the event to be more relevant to the times. (CLICK HERE to learn more about the event)